In a solemn and culturally rich ceremony, hundreds of mourners, both local and from neighboring countries gathered in Accra to pay their last respects to Ga Manye, Naa Dedei Omaedru III.
The final funeral rites, held under the auspices of the Ga Traditional Council, served as a poignant tribute to a beloved queen who had reigned for six decades.
A celebration of culture and tradition
The funeral of Naa Dedei Omaedru III was a grand celebration of Ga culture and traditions.
Mourners, donned in black and white attire, came together to observe a series of ceremonies that included tributes, prayers, and cultural performances.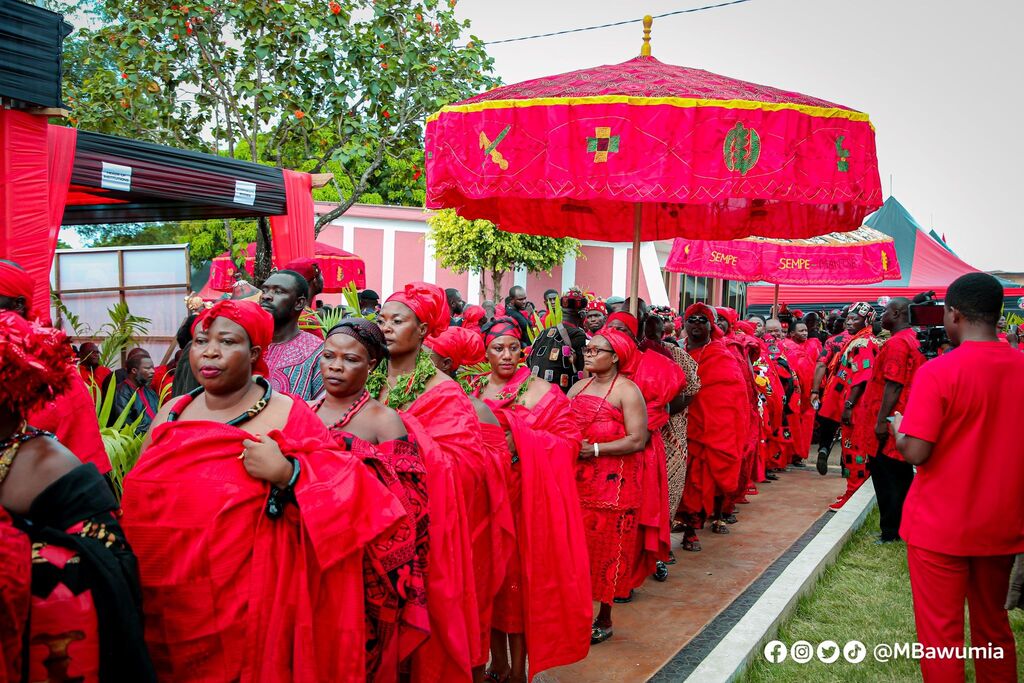 The event featured the mesmerizing displays of the Asafoatsemei and Asafoanyemei, who represented the men and women warriors of the Ga community.
The air was filled with the resonating sounds of muskets and drums, which underscored the importance of indigenous Ga culture.
Unity in mourning
Indigenous Ga people and visitors from far and wide converged in unity to commemorate the life and legacy of Naa Dedei Omaedru III.
Traditional leaders from various regions joined Ga Mantse, King Tackie Teiko Tsuru II, in mourning at his Palace in Accra.
Proceedings included both Christian and traditional rituals, as befitting the queen's remarkable 60-year reign.
Dignitaries and solidarity
The funeral was graced by the presence of dignitaries, including President Nana Addo-Dankwa Akufo-Addo and his wife, Mrs. Rebecca Akufo-Addo.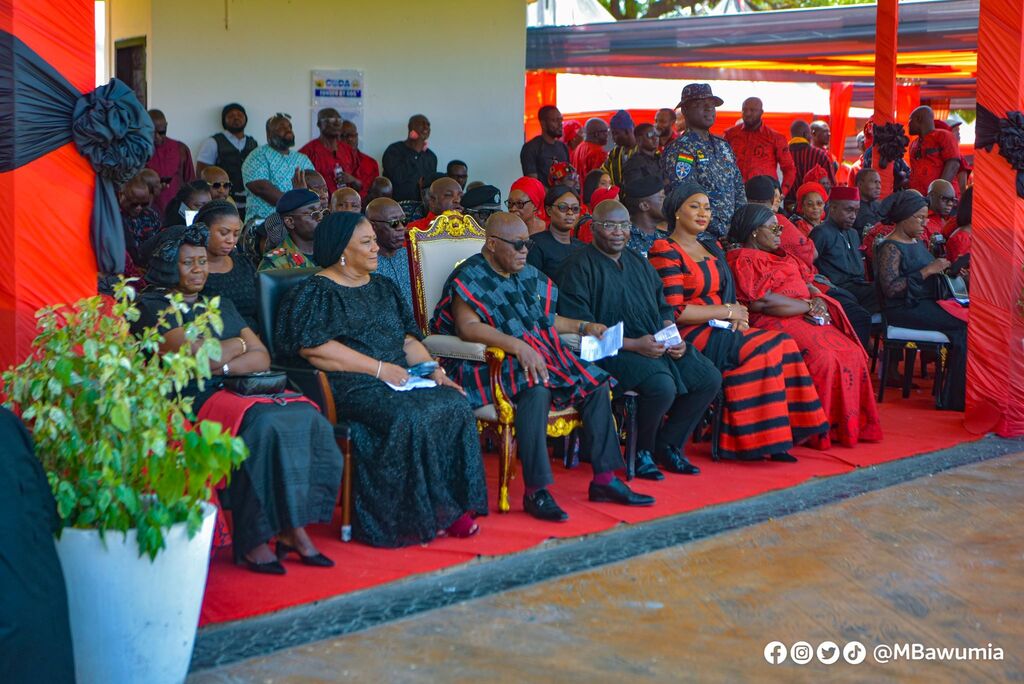 Among the many notable attendees were the Greater Accra Regional Minister, Mr. Henry Quartey, and representatives from the New Patriotic Party (NPP), which made a generous donation of GH₵10,000 to support the funeral.
President Akufo-Addo contributed GH₵100,000 in cash.
In his tribute, President Akufo-Addo described Naa Dedei Omaedru III as "a faithful, hardworking, long-serving member of the Ga State" and hailed her as "a model of traditional dignity and elegance."
A gathering of distinguished figures
The event also witnessed the presence of Vice-President Dr. Mahamudu Bawumia and his wife, Samira Bawumia, Chief Justice Gertrude Araba Torkornoo, and former Speaker of Parliament Prof Aaron Mike Oquaye.
Ministers of State, Members of Parliament, the Diplomatic Corps, traditional authorities, and numerous other dignitaries came to pay their respects.
Community and national solidarity
Solidarity was a central theme of the funeral, with Members of Parliament, the Clergy, Heads of Security Agencies, and representatives of Otumfour Osei Tutu II, the Asantehene, all showing their support. Chiefs from various regions, including Dasebere Nana Kwaku Boateng III and representatives from Akropong, Akwamu, Akyem, Adukrom, Ashanti, Agotime, Aburi, Oguaa, were present to bid farewell to the late queen.
A legacy of dedication and service
Naa Dedei Omaedru III, also known in her private life as Madam Vivian Joana Abla Holmes, was a remarkable figure who left an indelible mark on the Ga State and Ghana as a whole.
Born on April 20, 1934, to George Holmes and Sarah Akweley Kotey in Faase, Accra, her life's journey was one of profound significance.
At a young age, Naa Dedei ventured to Lagos, Nigeria, to live with her late uncle, Charles Holmes. During her stay in Nigeria, she attended school, laying the foundation for her education.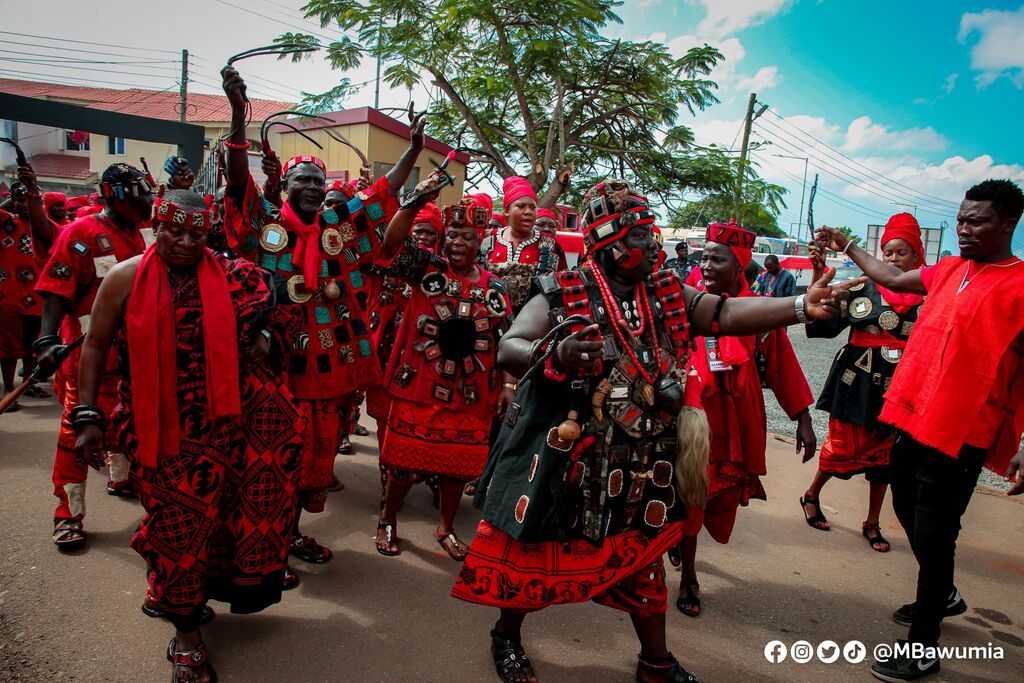 She later returned to Ghana due to her mother's illness, continuing her studies at the Adabraka Methodist School, where she successfully completed her standard seven education.
After completing her education, Naa Dedei joined the workforce and found employment at the Pioneer Paper Bag Factory in James Town, Accra.
 Her grace and beauty garnered her recognition, leading to her victory in the Greater Accra beauty contest in both 1960 and 1961.
Her charisma and presence also earned her a place as the second runner-up in the Miss Ghana Beauty contest.
Naa Dedei then took on a role at the Tema Aluminium Factory, where she became a sectional head. However, her destiny was to become the Ga Manye, a role she assumed in 1963 at the age of 29.
Her stool name, Naa Dedei Omaedru III, was inherited from her grandmother, Naa Dedei Omaedru II. This prestigious title was gazetted on November 29, 1968, and she went on to reign for 59 years.
Naa Dedei was deeply respected and cherished by all who had the privilege of knowing her.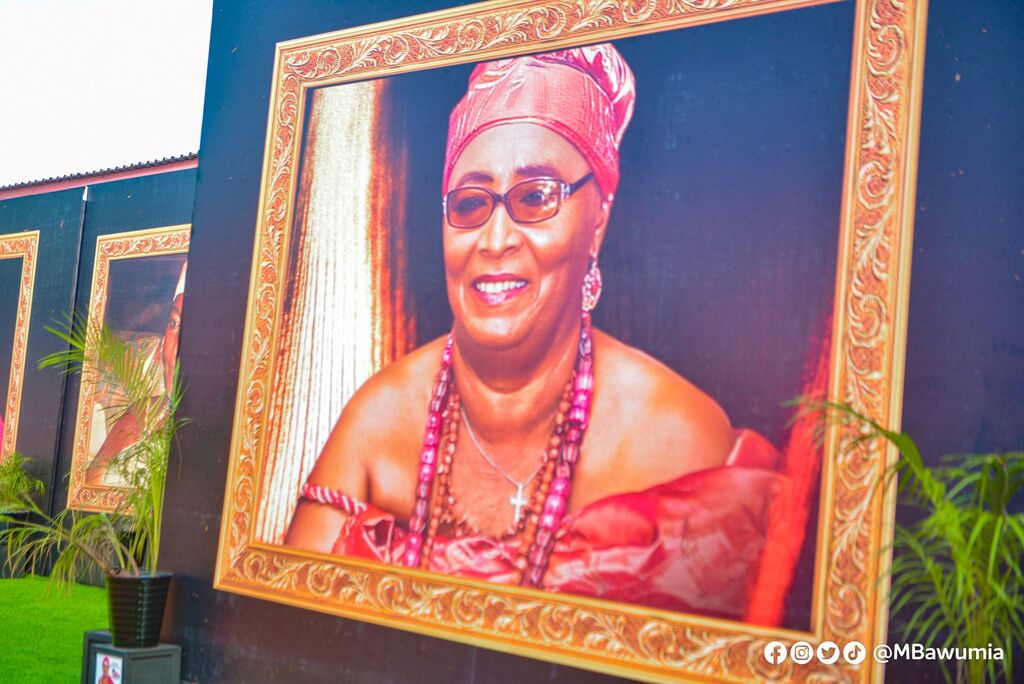 Throughout her reign, she demonstrated an extraordinary commitment to the preservation of Ga customs, culture, and traditions.
She urged her people to safeguard their rich values and heritage while promoting unity and peace, not just within the Ga State but for all Ghanaians.
One of Naa Dedei's central concerns was the welfare of the girl child and women, particularly the queen mothers of the Ga State.
Throughout her reign, the queen championed vital issues such as peace, nation-building, education, and opportunities for young people, with a particular focus on girls.
She believed in the importance of fostering unity to drive significant development in the region and secure the future for Ga children.
She was unwavering in her belief that the Ga people would prosper when legitimate chiefs were enstooled to perform their duties and uphold the rich traditions of the land.
In addition to her commitment to cultural preservation and development, Naa Dedei was known for her charitable work.
Her dedication to preserving Ga values, culture, and traditions was a hallmark of her leadership.
In 2004, she donated items worth GH₵12 million the equivalent of GH₵12,000 today to the Ghana Society of the Physically Disabled (GSPD) at the Ghana National Rehabilitation Centre in Accra.
In 2016, the Paramount Queen embarked on a five-year medical treatment journey in the United States. She returned to Ghana on April 14, 2021, and was warmly welcomed by a high-powered Ga delegation, led by Nii Adote Otintor III, the Acting President of the Ga Traditional Council, and various dignitaries. Her return was celebrated with great joy, and she expressed her love for peace and unity among all Ghanaians.
Naa Dedei Omaedru III, also known as Naa Dedei Ablah in her private life, passed away on December 26, 2022, at the age of 88.
She left behind a remarkable legacy of service, dedication, and love for her people.
In addition to her service in various sectors, Naa Dedei Omaedru III was celebrated for her love of sports and unwavering support for the Accra Great Olympics football club and local boxers in the region.
Her many awards and accolades, including recognition for her dedication to Ga culture and chieftaincy, are a testament to her enduring impact on the Ga State and Ghana.
Naa Dedei Omaedru III is survived by five children, thirty grandchildren, and fifty-nine great-grandchildren.
Her memory lives on as a shining example of leadership, culture, and compassion, and her contributions will be cherished for generations to come.
 Naa Dedei Omaedru III's legacy lives on, as Ghanaians and those from neighboring nations come together to celebrate a queen who dedicated her life to preserving Ga culture and promoting peace, education, and the welfare of her people, especially women and girls.
Economic impact
The funeral ceremony had a profound impact on economic activities in the Accra Central Business District, with shops closing in accordance with the directive from the Ga Traditional Council, reflecting the state of mourning.
Latest posts by Newscenta
(see all)