Ghana, Burkina Faso reaffirm joint anti-terrorism fight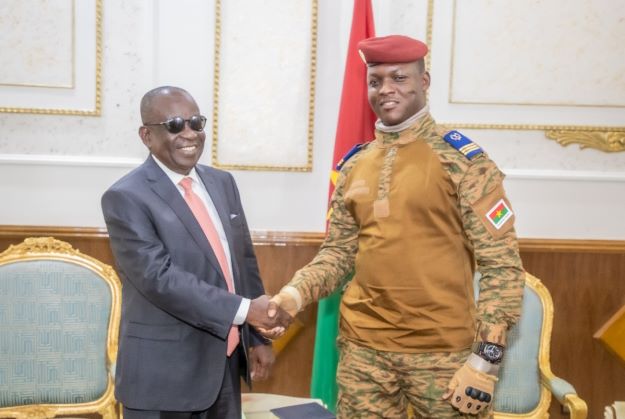 Ghana and Burkina Faso have reaffirmed their commitment to work together in fighting terrorism in the sub-region.
Ghana's National Security Minister Albert Kan-Dapaah disclosed this to journalists in Ouagadougou after conveying a message from President Akufo-Addo to the Burkinabe leader President Ibrahim Traore.
Mr Kan-Dapaah led a high-level delegation from Ghana which also included Security chiefs and officials from the Ministry of Foreign Affairs and Regional Integration.
Flanked by the Burkinabe Foreign Minister Madame Olivia Rouamba, Mr Kan-Dapaah said "the two countries reviewed the strong cooperation between them and clarified to their mutual satisfaction recent reported discussions between Ghana and the United States with regard to the needed partnerships for sustainable peace in the region"
The Minister indicated that both countries have reaffirmed their support for a common fight against terrorism, welcoming early  operationalization of the Accra Initiative to enable Burkina Faso defeat the terrorists who have brought untold hardship and pain to the Burkinabe people.
"In that respect, we discussed concrete support that Ghana has advocated for Burkina Faso in the Accra Initiative and ECOWAS and called on West African States to act expeditiously on the matter" he said.
The two countries also  highlighted the importance of building resilience in vulnerable communities and support for those that have been displaced or lost livelihoods, and called for genuine partnership with the international community in this regard.
Ghana and Burkina Faso committed to hold more regular consultations.
Earlier Mr. Kan-Dapaah and his delegation was welcomed by a retinue of religious and traditional leaders.
Together, they reaffirmed the common histories and traditions of Ghana and Burkina Faso, and agreed to explore the possibility of periodic visitor exchange with their counterparts in Ghana
Prof. Ofori-Boadu gets high recognition in US
for professorial contributions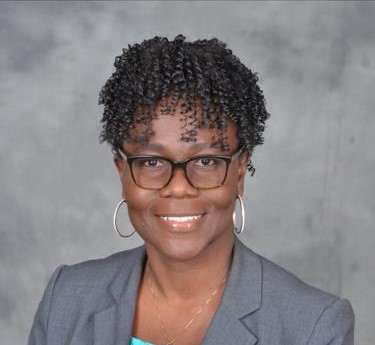 An Associate Professor of Construction Science and Management, Prof  Andrea Nana Ofori-Boadu, a lecturer at North Carolina Agricultural and Technical State University has been recognized by the U.S. National Association of Home Builders (NAHB).
This recognition was for her dedication to inspiring the next generation of residential construction industry leaders.
The recognition happened during the celebration of the International Women's Day on March 8, 2023,
In 2020, Prof. Ofori-Boadu also received the NAHB Outstanding Educator award in recognition of high teaching standards in construction education.
Women contribute significantly to the residential construction industry and dedicate time to inspire the next generation of home builders.
NAHB described Prof.  Ofori-Boadu, as one individual leading the way to encourage more women to explore architecture, engineering and construction (AEC) career pathways.
Prof. Ofori-Boadu serves as a mentor to female construction students.
She has secured scholarships, internships, mentorships and other professional development resources for her mentees.
In addition, Prof. Ofori-Boadu co-coaches the NAHB student competition team at the University.
She is excited about participating in this year's NAHB Student Chapters and Workforce Development team's first-ever Diversity, Equity, Inclusion and Accessibility (DEIA) Student and Faculty Leadership programme.
This new initiative aims to expand opportunities with students from historically Black colleges and universities (HBCUs) through leadership development seminars and networking opportunities throughout the year.
"I am delighted and appreciative of the opportunity to collaborate with NAHB to strengthen the leadership skills of undergraduate and graduate Construction Management students at North Carolina Agricultural and Technical State University," Prof. Ofori-Boadu said.
Inspired by her dad, Prof. Ofori-Boadu's professional journey began in Ghana, where she loved math, science and art as a girl.
A friend introduced her to a building technology programme, which combined engineering and management principles and she later earned her Ph.D. from Indiana State University.
In 2019, she received a National Science Foundation (NSF) award, which helped establish the Emerging Built Environment Women (EBEW) Center at North Carolina Agricultural and Technical State University, providing mentoring, professional development, scholarships, internships, informal learning experiences, and other resources to girls and women interested in AEC career pathways.
Born in Accra, Prof. Ofori-Boadu grew up under the guidance of her high-achieving parents, Mr Sam Poku and Mrs. Mary Poku.
She obtained a First Class in Building Technology at Kwame Nkrumah University of Science and Technology (KNUST) in 1997.
She moved to North Carolina in 2000 with her husband, Victor Ofori-Boadu.
In her professorial role at the North Carolina  Agricultural  and Technical State University, Prof. Ofori-Boadu has contributed to the intellectual and career development of hundreds of undergraduate and graduate students.
Her research work has resulted in numerous citations, publications, presentations, grants, and her U.S. patent (No. 11,104,611; August 31, 2021) titled 'Swine-waste Biochar As A Sustainable Cement Replacement Material."
She hopes that her journey inspires more girls and women to seriously consider pursuing science, technology, engineering, and mathematics (STEM) careers.
Work begins on major policy for downstream aluminum industry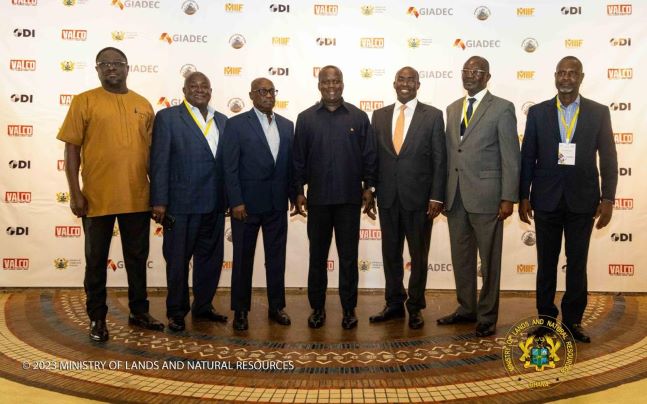 For the first time in Ghana's history, government is developing a comprehensive policy to make Ghana an attractive destination for investment in the downstream aluminum industry.
Areas of focus
The final policy will cover a wide range of areas including incentives, taxation, cost of electricity, tackling cheap imports, address dumping and how to manage the value chain and the relationships among others.
Policy to address cheap imports
The policy will also address cheap imports to make local companies thrive to meet local demand and export to other countries.
Utilisation of locally produced aluminum
The aim is to attract more companies to set up in Ghana and utilise locally produced aluminum to produce all kinds of products.
Why aluminum industry is essential to the economy
The aluminum industry is essential to the economies of modern countries and it provides a range of highly differentiated products, from the intermediate semis required for many high-tech industries to parts and components for final applications.
Stakeholders
Under the auspices of the Ghana Integrated Aluminium Development Corporation (GIADEC) stakeholders in the aluminum industries attending a 2-day workshop on downstream aluminum industry are reviewing extensive research, data collection and technical analysis of best practices across the world carried out by GIADEC and Overseas Development Institute (ODI), formerly known as the Overseas Development Institute with funding from the United Kingdom Government's Foreign, Commonwealth and Development Office (FCDO)
Policy options and implementation plan
Participants are deliberating on policy options and implementation plan for the downstream aluminum industry.
Electricity constitutes over 32% of production cost
The Cost of electricity constitutes over 32% of production cost in the aluminum industry.
Therefore, how to get electricity at the right price to support the industry will feature prominently in the policy.
Industrial transformation
Downstream is the heart that will drive industrial transformation and involves utilization of primary aluminum produced in Ghana.
Policy environment
GIADEC is preparing the policy environment for the incentive framework that will support the downstream industry.
Locally produced aluminum to be utilised locally
The policy will make sure that majority of locally produced aluminum is utilised locally to grow the economy for the benefit of Ghanaians.
Steady progress of integrated aluminum industry
Opening the workshop, Minister for Lands and Natural Resources, Samuel Abu Jinapor, is optimistic that government's quest to build an integrated aluminum industry in the country is on course, and progressing steadily.
Adding value to Ghana's mineral resources
He emphasised the need to add value to Ghana's mineral resources to ensure optimal benefit from these resources.
Big price differentials of raw ore and primary aluminum
He pointed out that while the raw bauxite ore sells for around $60 per metric tonne while primary aluminum produced from bauxite sells for over $2,000 per metric tonne.
900m metric tonnes of bauxite 
The Minister puts Ghana's estimated bauxite resource base at over 900 million metric tonnes.
2m jobs, one trillion US Dollars
According to him, the total deposit is capable of creating some two million sustainable jobs, and generating over one trillion US Dollars in revenue if fully integrated.
Robust, functioning and vibrant downstream aluminum industry
Jinapor urged participants at the workshop to bring their expertise to bear, and fashion out with policy options and plans that will help build a robust, functioning and vibrant downstream aluminum industry that contributes, meaningfully to the economy.
Tertiary products are the most important
Board Chairman of GIADEC, Dr. Anthony Oteng-Gyasi pointed out that converting bauxite into tertiary products constitutes the most important step in the entire value chain.
Mass production necessary
According to him, mass production is required to achieve the expected benefits and urged participants to develop a policy that will deliver results.
 Modernization and retrofitting VALCO
GIADEC's Master plan will lead to the modernization and retrofitting VALCO smelter to produce about 300,000 metric tornnes of primary aluminum each year.
Importance of aluminum to global economy
Chief Executive Officer (CEO) of GIADEC, Michael Ansah pointed out that the global economy is headed towards how aluminum is utilized and what is being done will propel Ghana to lead across Africa.
How aluminum will benefit vehicle assembling plants
He said the nine vehicle assembling plants operating in the country will need aluminum to produce and use Ghana as a launch pad to export to the rest of Africa and the world at large.
3-3.5 cent per kilowatt hour of electricity targeted
He disclosed that the industry is looking for electricity price of three to three and a half cents per kilowatt hour to make Ghana's industry competitive globally.
Cheap power to benefit downstream industry
When this is achieved, he said the benefit of cheap power will be passed on to local downstream industry.
Environmentally friendly aluminum
Ansah also revealed that Ghana is planning to use green energy to produce environmentally friendly aluminum which attracts higher price.
VALCO producing 50,000 metric tonnes of aluminum
The GIADEC CEO said out of the about 50,000 metric tonnes of aluminum VALCO currently produces each year, only 7,000 metric tonnes is utilized by downstream while the rest is exported.
40,000 metric tonnes of aluminum products imported annually
This he noted is happening at a time the country imports about 40,000 metric tonnes of aluminum products each year.
Role of AfCFTA
Dr. Max Mendez-Parra of ODI explained that the policy should focus on targeted policies for specific downstream industries and African Continental Free Trade Area (AfCFTA) is a critical framework to achieve that.
ODI roadmap to 2035
Derrick Abudu of ODI said his outfit has developed a roadmap from now to 2035.
According to him, the roadmap seeks to achieve energy deal with competitive cost structure by 2025 which will in turn attract enormous investments from 2030 to 2035.
He noted that low cost of electricity will result in cheap aluminum supplied to the downstream.
He said cheap inputs will automatically attract more investment since returns will be much higher.
Abudu stated that 20, 000 jobs can be generated while raking in revenue from exports of final products.
Soldier slaps policeman provoking violent clash in Accra Central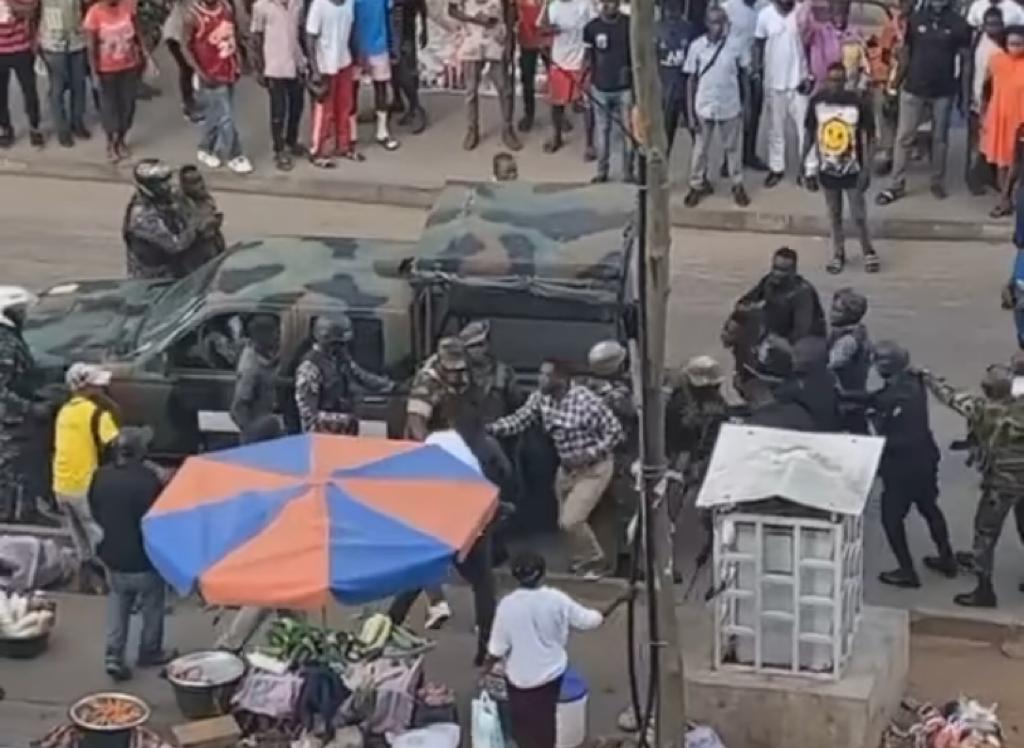 A violent scuffle ensued between Police and Military personnel near the Accra Regional Police Command yesterday creating fear and panic among the public.
An eye witness told The Finder that the scuffle was provoked by members of a military patrol team escorting a bullion van who slapped a police personnel not in uniform for not giving them way.
The eye witness who spoke on condition of anonymity explained that upon  the bullion van reaching the Ghana Cocoa Board (COCOBOD) area, the soldiers in the patrol vehicle screamed at a motor rider  to give them way.
The eye witness said the motor rider responded that he is a police officer and this response infuriated the military personnel.
The eye witness told this paper that one soldier alighted from their vehicle and slapped the policeman who was not in uniform.
The police officer quickly raise alarm and his colleagues at the Accra Regional Command premises rushed to his rescue.
According to the eye witness, the police personnel then detained the military personnel who slapped the police man.
The soldiers escorting the convoy attempted to resist the arrest of their colleague resulting in violent scuffle.
As at the time of going to press, details were still emerging but The Finder could not get the names of the police personnel slapped and the military personnel involved in the assault.
The Police and Military could not be reached immediately for their response.
The Finder learnt that the soldier was granted bail yesterday evening.
The conflict between the military and police is not uncommon in Ghana and in most cases, it the soldiers who attack the police.
In 2010 for instance, tensions flared between soldiers and police officers in Kumasi, when separate assaults carried out by soldiers within two days left 12 police personnel injured and police property destroyed.
The attacks began after a police officer attempted to arrest a soldier riding an unlicensed motorcycle.
In 2019, police personnel and some soldiers clashed at the Suame Roundabout in Kumasi.
This was after some police officers allegedly manhandled a plain-clothed military officer and handcuffed him.
The plain-clothed military officer was using an unregistered motorbike.
The military officer also called his other colleagues, who then attacked the police officers.
The soldier threatened to return with reinforcements and attack the police officer and made good on the threat later that day.
Over the next two days, more than a dozen police officers across the city were assaulted by soldiers.
In 2018, some soldiers and police officers in the Upper East region flexed muscles Sunday in a row over a military uniform.
In the same year, a group of soldiers angry over the arrest of their colleague stormed Tamale in the Northern Region and viciously pummeled police officers on duty at various points and banks.
Personnel of the Counter Terrorism Unit of the Ghana Police Service and personnel of the Military on the Operation Motherland at Juapong and on the Adomi bridge also clashed in 2021.
There has been a long-standing split tension between police and soldiers which some security experts partly blames on the outdated nature of the security legislation governing their operations.
Due to some of these disagreements between police and military personnel in the past, there have been calls for reform to establish clear oversight mechanisms and delineate security roles for the police and armed forces in Ghana.
Among the resolutions arrived at were the setting up of Police and Military memberships in all regions that host military bases, 'for the purposes of overseeing the peaceful co-existence of both services,
The personnel are the custodians of arms meant to protect and defend ordinary people   and not to attack each other.
It appears there is a deep seated animosity between personnel of the two institutions.
It is untenable for them to turn the area into a battleground to settle personal scores.