The story of Hannah Aidoo, who holds master's degree in economics
Growing up in a farming home, Hannah Aidoo defies all odds to venture into agriculture business to support her education and life.
The young ambitious lady took up this career eight years ago and has since employed other women and young people on her poultry farm.
As the founder and Chief Executive Officer (CEO) of H A farms based in Mankessim in the Central Region, she produces a range of nutritious and reasonably priced food items, including eggs, poultry, snails, catfish, vegetables, and food crops.
According to her, she works to produce these proteins to help her neighborhood and the nation as a whole while also keeping the health of the nation in mind.
In the last five years, Hannah has employed five persons, comprising three females and two males.
How the journey started
With a Bachelor's degree in Agribusiness Management and a Master's in Economics from the Kwame Nkrumah University of Science and Technology (KNUST), she decided to start a poultry farm in 2017.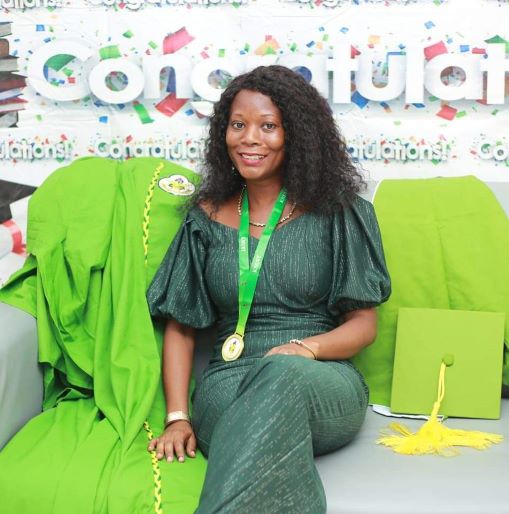 She revealed that she had previously established a fresh yoghurt business in 2015 but was unable to maintain it owing to a lack of funding and rolling power outages popularly called dumsor.
"As a result of that, I chose to accept an offer as a salesperson in 2015 with an insurance firm to make some commission," she explained.
Hannah worked extremely hard and rose to the position of sales manager.
Through these periods of her life, she disclosed that she saved part of her commission each month to start her business in the future.
It was at this point that Hannah decided to launch her poultry business.
She mentioned that at that time, fresh chicken and eggs were in high demand in her neighborhood.
In light of that, she stated, "I decided to start planning, preparing for, and building my poultry house."
By the beginning of 2018, she constructed a 300-housing capacity facility and ordered her first batch of 350 layers which arrived in August 2018.
Despite farming being challenging and time-consuming, she was able to increase capacity to 600 layers.
For the sake of health-conscious Ghanaians, she added, "We are currently building a 2,000 housing capacity to help us to produce more healthy and economical eggs and meats."
Hannah confirms that life as a poultry farmer is exciting aside few challenges in the system.
Challenges as a farmer
The CEO of H.A. Farms told this newspaper that money has been her biggest issue since she started because poultry requires a lot of labour and resources.
According to her, attempts to obtain loans from certain financial institutions had been unsuccessful due to their exorbitant interest rates and her inability to provide the necessary collateral security required.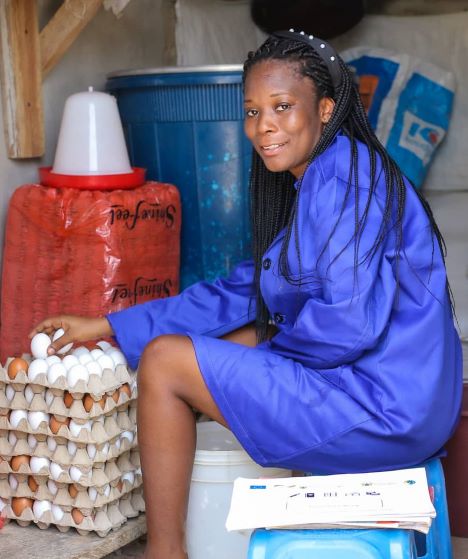 Hannah noted that despite all the biosecurity precautions she has taken, some investors still view the poultry industry as a high-risk sector to invest in.
She added that her expansion plans have been constrained by the ongoing increase in the cost inputs, particularly feed, day-old chicks, and medications, as well as the fact that her purchasing power and funds have been declining daily.
"It looks like the poultry sector is gradually collapsing due to the persistent increase in the feed and other inputs cost.
"Most poultry businesses have shut down because they are unable to cope with the high cost of production," she explained.
The youthful CEO lamented the fact that Ghanaian poultry farmers still find it difficult to compete with importers of frozen chicken since their cost of production is substantially lower than what is produced in Ghana.
Also, she said frozen birds are considerably cheaper compared to what is produced locally.
She stated that as a result, local broiler producers are finding it difficult to sell their fresh chicken due to the high cost of production.
"We learned from our research that there is a high demand for eggs and chicken due to their high nutritional value, so with the majority of our poultry farms closing, the existing gap will widen even more, leading to more imports of eggs and chicken, which will cause high inflation and put a strain on our economy," she stressed.
Hannah appealed to the government and other stakeholders to assist in saving the poultry sector because if it is allowed to fail, many jobs will be lost.
Greatest achievement
Hannah touted her company's receipt of a $10,000 grant from Standard Chartered Bank Women in Equipment programme, administered by the bank and the Ghana Climate and Innovation Center, as one of her accomplishments.
The money according to her was used to enhance the technology used on the farm.
She stated that her greatest accomplishment was that her business was able to give the people in her community access to extremely nutritious protein items such as eggs and chicken while creating direct and indirect employment for some of the women and young people in her community.
She added that she also gives manure generated from the droppings of chicken to farmers who grow crops.
Issues with gender bias
"When I tell people I own the business and that I started it from scratch, they often advise I get married so that my husband can help me run the business as if a woman isn't capable of managing a successful agribusiness" she sighed.
The young CEO mentioned that others also assume her poultry farm belongs to her father or husband.
She said that she has not come across any obstacles or restrictions that prevent women from working in the agriculture business adding that the capital and labour requirements of some agribusinesses is the only thing that might deter women from working in agriculture.
"I believe that women are capable of anything given enough financing, access to technology, and the correct motivation" she emphasised.
Final words
She urged young people to create businesses in the agricultural industry since it is exciting and lucrative, noting that she had many possibilities and exposure there that she wouldn't have had if she hadn't been a farmer.
"Given that there is already a market for the food we will produce, I think making a smart and deliberate investment in agriculture is one of the finest moves someone can make," she stressed.
Latest posts by Newscenta
(see all)