The launch of the Economic Enclave Project (EEP) to cultivate 110,000 acres of land in seven regions sets the tone for a new journey of commercial agriculture in Ghana.
Govt support
Under the programme, government will provide support such as clearing and development of land and facilitate access to credit, including the recently approved GH₵500 million from the Development Bank Ghana (DBG).
Speaking at the launch of EEP, Finance Minister Ken Ofori-Atta said the key objective is to convert lands into fields that will limit imports and transform Ghana into a net exporter within five years.
Driven almost entirely by private enterprise and finance
Driven almost entirely by private enterprise and finance, he said government will take full advantage of the opportunities offered by the African Continental Free Trade Area.
 Rice, tomato, maize, soya, vegetables and poultry
The EEP is open to agricultural land owners with at least 1,000 acres of land, private value chain actors of priority commodities namely rice, tomato, maize, soya, vegetables and poultry.
Who can participate?
Individuals, private sector actors, organized groups, churches, traditional leaders and financial institutions are being invited on this new journey of commercial agriculture.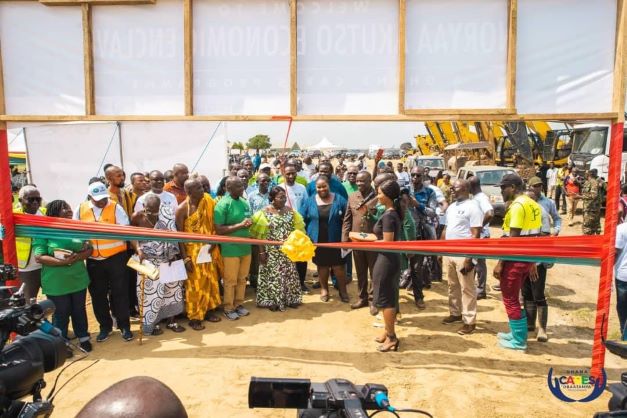 Massive programme of change
It has been dubbed a massive programme of change to how the country organizes production and promotes productivity.
195,000 direct and indirect jobs
The novel EEP targets to create 195,000 jobs for the youth comprising 105,000 direct and 90,000 indirect jobs.
10,000-acre stretch of land at Kasunya-Nyaphienya
The current EEP model is starting on a 10,000-acre stretch of land around the Kasunya-Nyaphienya area in the Greater Accra Region.
A pilot phase is 1,000-acres of rice
A pilot phase of the current model has commenced with cultivation of 1,000-acres of rice.
EEP is projected to generate GH₵500m per annum
EEP is projected to generate over GH₵500 million per annum for private sector actors participating in the project.
Linkages with ongoing govt interventions
Ofori-Atta noted that the Partnership Framework envisages direct market linkages with ongoing Government interventions such as Buffer Stock Company, School Feeding Programme and government procurement such as supply of food to Prisons, Hospitals and the Security Services.
Post COVID-19 Programme of Economic Growth
According to him, government has designed a well-consulted Programme – the Post COVID-19 Programme of Economic Growth (PC-PEG) and the 2023 Budget – to guide Ghana out of the current difficulties.
Transition into an Upper Middle Income economy within a decade
He explained that the EEP is a critical part of the strategy for ensuring that Ghana transition into an Upper Middle Income economy within a decade.
50,000 acres of land in Kumawu
In partnership with the National Service Scheme (NSS, the project will develop 50,000 acres of land in Kumawu in the Ashanti Region.
Other regions
Arrangements for similar interventions in Oti, Savanna, Central, Western North and Western Regions, are being pursued to bring the total cultivated lands to 110,000 acres.
Ofori-Atta explained that the EEP complements existing agriculture-based flagships such as the Planting for Food and Jobs and sharpens the focus to promote competitive food import substitution, initially focused on rice, poultry and maize, through commercial and large-scale farming.
$10 billion annual import bill
He is worried about annual import bill, which exceeds $10 billion advocating measures to domesticate items that account for about 45% of the value of annual imports in products such as rice, poultry, pharmaceuticals, jute bags, fish and sugar.
Plans to quadruple poultry production
The Finance Minister also seeks ingenious ways to quadruple the output of poultry production to meet the national demand of 400,000 metric tonnes and reverse the trend which has seen domestic production of chicken decline from 58% in 2000 to 20% in 2021.
90% reduction in fresh tomato imports
He also wants reduction in the import of 90% of fresh tomato needs from Burkina Faso, which is estimated to have reached $400 million in October, 2022.
Chief of Staff Mrs Akosua Frema Osei-Opare who represented President Nana Addo Dankwa Akufo-Addo said the Noyaa Akutso Economic Enclave in the Kasunya – Nyaphienya area has the potential to cultivate about 20,000 acres in partnership with the Private Sector.
Significantly expand agriculture productive capacity
She explained that the ground-breaking GhanaCARES EEP is planned to be a multi-dimensional economic space to create a viable ecosystem for commercial agriculture and significantly expand agriculture productive capacity.
Improving food security, promoting value-addition
According to her, the Project is aimed at reducing imports, improving Ghana's food security and promoting value-addition.
In addition, she said it will accelerate infrastructural development and enhance market linkages in food growing areas.
The Chief of Staff assured that government will remain an active facilitator in land development and market connection under EEP.
Mrs Osei-Opare outlined the distinctive private sector-driven feature of EEP which is meant to amplify other government strategic interventions including Planting for Food and Jobs, Rearing for Food and Jobs, One District One Factory, GIRSAL and Commodity Exchange to advance agricultural modernization and drive rapid economic development.
Together, she is confident these interventions, coupled with the Post-COVID-19 Programme for Economic Growth (PC-PEG), will help address key structural issues in the economy and position the country's development on a resilient and transformative path.
Mrs Osei-Opare said EEP is progress towards the transformation of Ghana's agricultural landscape and economic development; building on the existing Government flagships.
She observed that the current challenges and its devastating impact on the economy and households actually affirm the need to build an even Wealthy, Inclusive, Sustainable, Empowered and Resilient Ghana (a WISER Ghana).
"It would be unwise to continue to put pressure on the Cedi by importing vast amounts of food and items that we can produce locally.
"It would be unwise to continue to depend on others for our food and other essentials when supply chains have proven unreliable, and rising nationalism can be easily instigated.
"It would be unwise to keep supporting employment elsewhere by importing more when our youth continue to actively look for jobs here.
"It would be unwise not to allow the private enterprise to lead the transformation of our economy," she stated.
Mrs Osei-Opare was excited that government is taking real and substantive steps to change how the country produce and consume goods.
MiDA
The initiative is being led and coordinated by the Millennium Development Authority (MiDA) to use its vast experience in coordinating and delivery programmes in collaboration with other government institutions.
MoFA
The Ministry of Food and Agriculture (MoFA) will provide the needed technical oversight and quality assurance in land development, provision of machinery, irrigation services, development of seedlings and extension services.
48 Engineers Regiment
The 48 Engineers Regiment of the Ghana Armed Forces (GAF) under the Ministry of Defence is clearing and developing the land.
Ministry of Roads and Highways
The Ministry of Roads and Highways has prioritised access road to ensure market linkages.
Ministry of Energy
The Ministry of Energy is connecting this site to the grid to accelerate the onboarding of additional services in the rice and vegetable value-chain.
 NEIP
The National Entrepreneurial and Innovation Programme (NEIP) and the National Service Secretariat (NSS) are providing trained youth to support farm cultivation, processing and management.
Ministry of Finance
The Ministry of Finance is coordinating the strategic investment and partnerships in the real sector.
The Ghana CARES Programme is a GH¢100 billion development initiative designed by the Government to mitigate the economic challenges brought on by the coronavirus pandemic.
It is meant to stabilise, revitalise and transform the country's economy to create jobs and prosperity for the citizenry over a three-year period, with focus on commercial Farming, light manufacturing, fast-track digitisation, housing and construction.
Latest posts by Newscenta
(see all)