Religious leaders call for ban on all small scale-mining activities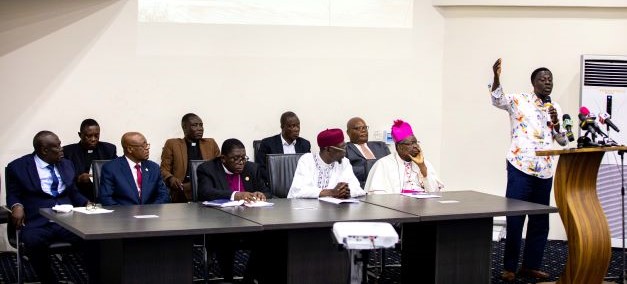 Religious leaders in the country have asked government to ban all small-scale mining popularly known as 'galamsey' until a comprehensive workable road map is established to ensure responsible mining in the country.
They said both legal and illegal small-scale mining  had destroyed the biodiversity-plants, animal species and water bodies, which needed urgent restoration.
The religious leaders include the Christian Council of Ghana, Ghana Catholic Bishops' Conference, Ghana Pentecostal and Charismatic Council, Office of the National Chief Imam and Ahmadiyya Muslim Mission, Ghana, National Association of Charismatic and Christian Churches.
The leaders, last week, made a field trip to some 'galamsey' sites in the Eastern region.
The tour was to enable them to assess the level of devastation caused by 'galamsey' activities in the communities to inform decision.
At a joint press conference in Accra, the religious leaders stated that they have noticed that many groups and companies hide behind a legal license to wreak havoc on the environment.
They called for an immediate national stakeholder's dialogue under the auspices of religious leaders while the ban is in place to dialogue with all political parties, mining technocrats, the media, traditional leaders and all stakeholders to commit to a non-partisan National Strategy to sustainably deal with small-scale mining before the country sinks.
The immediate Past General Superintendent of the Assemblies of God Church, Reverend Professor Paul Frimpong-Manso, called for a week of fasting and prayers for a change of heart and for God's mercy upon the nation.
He however commended some traditional leaders who have resisted galamsey practices in their territories for their courageous efforts.
Mr. Emmanuel Baba Mahama, who represented the Full Gospel Men's Business Fellowship, called on government to swiftly arrest and prosecute all involved in galamsey activities without fear or favour, to serve as a deterrent to others.
"Those who desire to be rich at the expense of the future of our country should face the full rigours of the law," he noted.
As part of strategies to fight against small-scale mining, he called on all religious leaders to wear red arm bands to show their deep concern for the destruction of the environment.
He also called for the arrest and immediate prosecution of any chief who permits galamsey activities within their jurisdiction for any reason.
As part of their fight against galamsey, the religious leaders have given Metropolitan, Municipal and District Chief Executives (MMDCEs) an ultimatum to ensure that polluted water bodies caused by illegal mining (galamsey) within their sphere are clean by June 30, 2023.
When asked if the deadline was feasible, he explained that it was a process and will surely yield results once the MMDCEs are committed to seeing a change.
The religious leaders stated that they are ready to mobilise their legal team to go to court on galamsey and have MMDCEs who have allowed such menace in their jurisdictions to be removed from office.
They indicated that they have realised that galamsey is preventing the youth from going to school.
"We call on all well-meaning Ghanaians to immediately report any child of school going age who is involved in galamsey activities in their communities to the appropriate authorities and also to their respective religious leaders," they said.
They assured Ghanaians that they are committed to leading a sustained national moral crusade and public education in partnership with all other stakeholders in their various churches and mosques, across the country to appeal to the moral conscience of Ghanaians for a change of attitude towards the environment.
Sheikh Aremeyaw Shaibu, who led the delegation from the office of the National Chief Imam, called on individuals, civil society groups, religious and traditional institutions and all Ghanaians to stand up to the challenge and work to preserve the environment from the menace of galamsey.
He admonished opinion leaders and the youth to speak up and report illegal mining activities in their localities to the relevant authorities.
He also urged pastors and other faith leaders to use their pulpits to preach against the evil of galamsey in the country.
"This is the time to put Ghana first, beyond political party affiliations and personal gains, in order to secure a better future for our children. This is the whole basis of sustainable development" he added.
Sheikh Aremeyaw indicated that the adverse impacts of galamsey are seriously undermining our collective national efforts towards achieving the Sustainable Development Goals (SDGs).
Sheikh Aremeyaw Shaibu , said the survival of the people is under threat due to the level of destruction, which included cutting down of cash crops, degrading of lands with chemicals such as mercury, chlorine, and cyanide.
"Our eco-system is being destroyed irreversibly; our soils are contaminated with poisonous chemicals, which are very difficult to clean," he said.
Sheikh Shaibu urged all and sundry, especially politicians and the people involved in the activities to reflect on the national pledge, which encouraged all citizens to be faithful and loyal to Ghana in all their dealings.
Most Reverend Philip Naameh, Archbishop of Tamale said "We have visited a number of affected communities and have seen the level of devastation that the practice has caused our natural resources," he said and asked government to swiftly arrest and prosecute all those involved without fear or favour.
"Those who desire to be rich at the expense of the future of our country should face the full rigors of the law," he stressed.
Most Reverend Naameh said religious leaders were ready to facilitate a dialogue with all political parties, mining technocrats, the media, traditional leaders and all stakeholders to commit to a non- partisan National Strategy to sustainably deal with the issue.
Dr George Manful, a Retired Diplomate on Environment and Climate Change of United Nations Environment Programme, said it would take about 500 years for the restoration of the top soils.
"You go to clear vegetation in search of small ounce of gold in just few hours and it will take equivalent of 20 generation of Ghanaians to get only three inch of soil back. This must stop," he said.
Nana Dwomoh Sarpong, Founder of Friends of Rivers and Water Bodies, said the justification that people engaged in illegal mining due to high unemployment rate was not justified.
"Will you support the claim that hungry people should steal to survive? Being jobless does not mean one should destroy the environment that supports our existence," he said.
He said the advancement in science and technology should be used to make life easy and protect nature and not to destroy it, noting that it would take 70 years for the chemicals that had leaked into the underground water to clear.
Nana Sarpong alleged that the problem was lingering due to the involvement of high political actors from major political parties.
"This small scale-mining is a life and dead issue. The problem is the politicians who fail to adhere to the advice of technical people…Technocrats are afraid to talk because they do not want to lose their jobs," he said.
Nana tasks CID to probe Prof Frimpong-Boateng's galamsey claims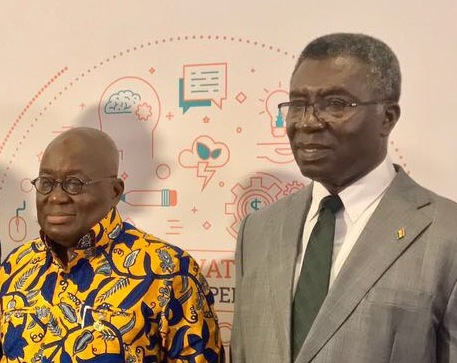 President Nana Addo Dankwa Akufo-Addo has directed the Police to investigate allegations by Professor Kwabena Frimpong-Boateng regarding the involvement of some government officials in illegal mining activities.
Checks by The Finder with the Police confirmed that the directive was issued last week.
Special Investigation Unit
Following the directive, the checks revealed that the Special Investigation Unit (SIU) of the Criminal Investigation Department (CID) at Headquarters has commenced investigation into the matter.
The former Minister of Environment, Science, Technology and Innovation also alleged that even some staff at Jubilee House and New Patriotic Party (NPP) bigwigs are involved in illegal mining.
Ousted by persons in galamsey?
Prof. Frimpong-Boateng in a recent interview with the state broadcaster GBC alleged that he was ousted from his position to pave the way for NPP bigwigs and government officials to continue their galamsey activities.
"Let me tell you that I did not take one excavator for anything, they know the truth. Now things are coming up, we know those who are behind it and the party people who are there, people in government including Jubilee House who are doing galamsey and so on, even now.
"There was an orchestrated scheme, even within the party and government to get me out. Why is it that when I left now everyone is in the forest?"
Prof. Frimpong-Boateng's son accused of mining in forest reserves
Jojo Frimpong-Boateng, the biological son of Prof. Frimpong-Boateng was accused of having links with a company called Symphony Limited allegedly involved in mining in Ghana's forest reserves.
Audio recording
While in office in 2020, an audio recording surfaced online with the voice of Prof.   Frimpong-Boateng interacting with some persons believed to be NPP members and in the said recording, Prof.  Frimpong-Boateng was heard allegedly agreeing to granting them the green light to engage in galamsey.
Scandals of Inter-ministerial Committee on Illegal Mining
The Inter-ministerial Committee on Illegal Mining (IMCIM) headed by Prof.  Frimpong-Boateng was hit by a number of scandals including corruption allegations levelled against some of its leaders as well as claims of 500 excavators seized from illegal small scale miners missing.
"Though the excavators were seized and taken to the district assemblies, the heavy-duty machines disappeared later from the premises of the assemblies," he said.
CID arrest 6 in connection with missing excavators
The CID of the Ghana Police Service on Monday 3rd February, 2020, arrested six persons in connection with the missing excavators and other seized equipment from illegal miners in the country.
Among them is the suspended New Patriotic Party Central Regional Vice Chairman, Horace Ekow Ewusi.
The others include Frederick Ewusi, Joel Asamoah, Adam Haruna, Frank Gyan and John Arhin.
157 excavators
However, the then Lands and Natural Resources Minister, Kweku Asomah Cheremeh, said his outfit had 157 excavators in its possession.
There were 122 excavators in Adentan, 26 in Obuasi and nine in Tarkwa.
Following the scandals Nana Addo Dankwa Akufo-Addo dissolved the IMCIM in January 2021 and assigned Lands and Natural Resources Ministry the lead role in the galamsey fight.
 Anti-galamsey fight making Ankobra River clean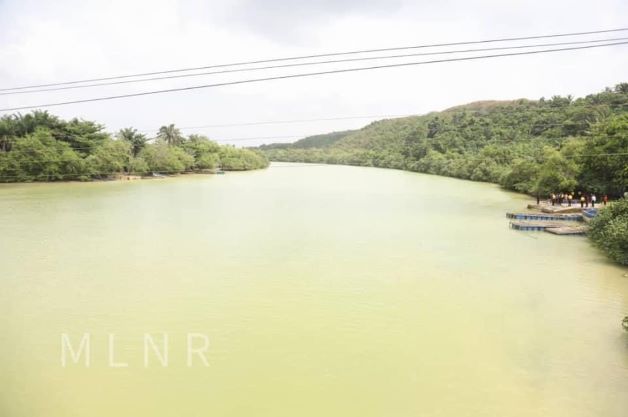 The Deputy Minister for Lands and Natural Resources responsible for Mines, George Mireku Duker has noted that the return of the Ankobra River and other water bodies to their pure status is a reflection of the strides made by government's fight against illegal mining.
According to him, the progress made in the turbidity level of the waterbodies is indicative of the fact that the anti-galamsey fight is yielding results.
Speaking after the tour of the Ankobra River which is fast regaining its authentic and clean status on Thursday, 16th February 2023 , Mireku Duker commended the various stakeholders for their respective roles in the fight against illegal mining.
While commending the various agencies and Ghanaians for their efforts,  Mireku Duker maintained that government will not take its foot  off pedal and will press on with the measures that have resulted in the gains made so far.
He noted that the training of river wardens to compliment the Operation Halt II taskforce is another laudable initiative by government that has contributed significantly to the liberation of water bodies from galamsey operations.
He urged all individuals especially Chiefs, MMDCEs and the general public to join forces with government in its bid to protect the water bodies.
He reiterated government's aversion on the ban of small-scale mining and expressed that government through the Community Mining Scheme and other innovations will transform the small-scale mining sector.
"We should take full responsibility of protecting Ghana's river bodies.  We have roles to play including MMDCEs and we must all commit to protecting our water bodies.
"There are suggestions for government to close down small-scale mining activities but we are aware of the number of job opportunities created in the small-scale mining sector.
The DCE for Ellembelle District, Kwasi Bonzo said the people of Ellembelle will not sit down aloof and watch others destroy their livelihoods.
Dorcas Amoah, DCE for Nzema East commended the government for the Community Mining scheme in the area, revealing that many lives have been impacted positively by the innovative mining scheme
Atewa Forest: Forestry Commission destroys galamsey equipment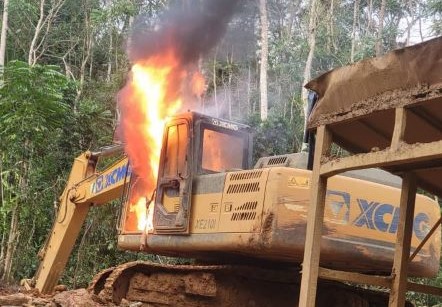 The Forestry Commission has demobilized equipment being used for illegal mining in the Atewa Forest in the Eastern Region.
The demobilization was carried out at a mining site outside the Forest Reserve which has affected 0.6 hectares of the reserve.
A statement issued by the Commission said no one was found at the site where the illegal mining was taking place.
The Commission said it is working with Operation Halt II to ensure that no illegal mining activity takes place in the Forest Reserve.
It assured that the necessary steps are taken to reclaim portions of the Forest Reserve affected by the illegal activity.
The Commission said it has reported the incident to the Kyebi District Police Station and will work with them and other agencies to smoke out the perpetrators and deal with them.
It assured the public of continuous commitment to work with all stakeholders to protect all Forest Reserves in the country
It will be recalled that eleven persons who were involved in illegal mining in the Atewa Forest were given prison sentences of between five and 15 years.
Koforidua Circuit Court B sentenced them after they were found guilty of engaging in the dig and wash model of illegal mining in the Atewa Forest Reserve, contrary to the
country's mining laws which bar mining in forest reserves.
The 11 convicts are among 55 persons who were arrested by officials of the Forestry Commission in 16 different operations in the Atewa Forest between January and April 2022.
A document detailing the progress report on the cases revealed that the 44 people were on remand at the time.
Three of the convicts – Alhassan Lariba, Foster Boakye and Kwaku Ampofo, who were arrested at the Pameng portion of the Atewa Forest, were sentenced to 3,000 penalty units, amounting to GH¢36,000 in addition to five years' imprisonment.
In another case, George Asare and Godwin Ahadzi, who were arrested at the Asiakwa portion of the Atewa Forest, were fined 10,000 penalty units, amounting to GH¢120,000 or they would spend 15 years in prison.
Again, Isaac Kofi and Yaw Boadi, who were arrested in the Obourho portion of the forest, were fined 10,000 penalty units of GH¢120,000 in addition to 15 years' imprisonment with hard labour.
Three other illegal miners – Bismark Dompreh, Kwasi Samuel and Kwadwo Baah – were handed 15 years sentence and a fine of GH¢1,000 each.
The illegal miners were arrested at various locations in the Atewa Forest, including Sagyimase, Pameng, Asiakwa, Ahwenease, Juaso, Obourho, Potroase and Apenaman,