More than 2,000 residents of Oduman and its environs in the  Ga West District of the Greater Accra Region benefitted from a free health screening and medical care exercise organised by the Hands of Gold Foundation (HOGF)
The exercise which saw beneficiaries screened and treated for Hepatitis B, Typhoid, Malaria, Ulcer, Diabetes and High Cholesterol levels formed part of activities to mark this year's commemoration of International Women's Day.
The beneficiaries were also offered free eye screening and treatment.
Apart from the health screen, beneficiaries were also registered onto the National Health Insurance Scheme (NHIS) or had their insurance renewed.
This year's celebration is on the theme: "Embrace Equity".
Speaking to the media at the event, the Deputy Chief Executive Officer (CEO) of  HOGF, Mr Benjamin Opuni said it was their modest contribution towards the empowerment of women.
He said the important role of women in society required that they must be in good health at all times and that was why the screening exercise was scheduled to coincide with International Women's Day.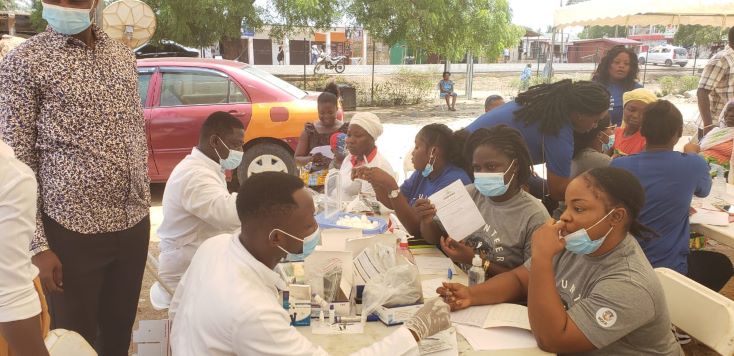 Mr Opuni said the beneficiaries who were mostly women were screened  for hypertension, hepatitis, malaria or typhoid.
He expressed satisfaction with the turnout and pledged that the HOGF would continue to advocate for support for the interest of women.
The Medical Laboratory Scientist at the Oduman Polyclinic, Mr Hakeem Umar Toniah said the screening exercise was one that afforded the residents the opportunity to have foreknowledge about their health status.
He explained that hypertension, diabetes, and hepatitis seem prevalent in the area, stressing that, "So far, from the numbers we have screened, it looks as if those with hypertension are more, followed by diabetes and then hepatitis."
Mr  Toniah said it was important for people to check their lifestyle in order to reduce the incidence of hypertension and diabetes in the country.
On her part, the Finance Director of HOGF, Mrs Akosua Adjei said the focus was more on women and children.
She said her outfit over the years have been supporting women and children with support both financially and materially.
In a related development, the foundation has donated quantities of usable to the labour ward of the Oduman Polyclinic.
The items included, bedsheets, detergents, soaps, tissues, toilet rolls and pampers
Latest posts by Newscenta
(see all)