Dr Adutwum: Education system does not produce critical thinkers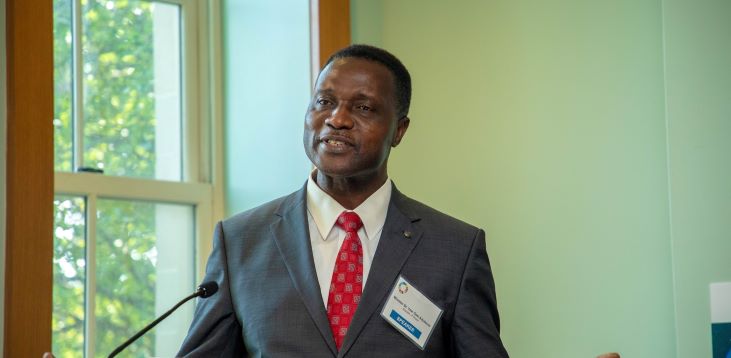 Minister of Education Dr Yaw Osei Adutwum, is worried that the educational system in Africa and Ghana for that matter does not produce critical thinkers.
This is because, the system has tamed pupils and students from asking questions by programming them to only reproduce what teachers taught them during examination.
Touting what Ghana is doing to change the situation at the United Nation's General Assembly meeting in New York in the United States of America, Dr Adutwum said this type of education cannot transform Ghana and the continent as a whole.
Comparing the situation to his experience in the United States of America, he described Ghanaian school children as good and respectful.
According to him, he has visited a number of schools and anytime he asked the students at the end of his interaction with them if they have a question for him, no hand goes up.
"What it tells me is that invariably we tame the children. We just want them to write down what we tell them. At the day of examination, they should put down what we have told them and we say you are the best student the country has ever known.
That kind of education system will not transform Ghana. That kind of education system is not going to give us critical thinking individuals especially since we are in the 21st century and education 4.0-the fourth industrial revolution.
"You cant memorise your way out of poverty but you can critically think and innovate out of poverty.
"So, Ghanaian schools, African school have to begin to take a serious look at what I call assertive curriculum; a curriculum that empowers the African child to ask questions and challenge the status quo respectively within the African cultural context.
"But, not a curriculum  that tells the African child to be quiet and don't say anything when the adult is speaking and tell the adult back whatever he was told.
"With that kind of education system, I don't care if we get to the point where every African child is in school.
"If you put all of them in school and do not change the way you teach them by empowering them to be assertive individuals, you have still not transformed Africa through education.
"We have to make sure we can get the critical mass with critical minds that we need for our transformation,"  he stressed.
Dr Adutwum wants Ghana and Africa to  to stop taming students and rather help them to be assertive so they can open up at all times and ask critical questions wherever they might find themselves in the course of their lives."
In the contemporary world, industry relies more heavily on creative and innovative thinking than memorisation, hence the need for the  country to produce critical thinkers.
Four Cs of education
Students who are critical thinkers come to the realisation of four Cs of education- collaboration, creativity, critical thinking and communication, making them competitive on the global market.
Learning nation
The Ministry of Education said it is on course with the government's plan to transform Ghana into a "learning nation,"
Multiple reforms
Multiple reforms the government is carrying out are necessary to improve education in Ghana.
Education Strategic Plan
This ambition is anchored by the Education Strategic Plan (ESP) 2018-2030, mainly in response to the Sustainable Development Goals (SDG 4) Goal and it revolves around improving the quality of "education for all."
National capacity building
The main focus is to improve pupils' learning outcomes and ensure an overall impact of education on national capacity building and socio-economic development.
3  key objectives of Education Strategic Plan
ESP 2018-2030 has three key objectives, namely, improved equitable access to and participation in inclusive education at all levels; improved quality of teaching and learning and Science, Technology, Engineering and Mathematics (STEM) education to produce students and graduates who will be fit for purpose at all levels and sustainable and efficient management, financing and accountability of education service delivery.
The Ministry has also developed the electronic-based monitoring system – the Fidelity of Implementation (FOI) Monitoring System, which is being used by major stakeholders in monitoring the progress of implementation, identifying challenges and taking constructive decisions to improve implementation and accountability.
Ghana Accountability and Learning Outcomes Project
The Ghana Accountability and Learning Outcomes Project (GALOP), to foster stronger collaboration to improve its education system is also being implemented.
More  reforms
Infrastructure development, teacher training, targeted instruction, parent engagement, textbook reforms, training of headteachers are some of these reforms.
First-ever National Standardised Test
The first-ever National Standardised Test organised by the Ministry for Primary Four pupils revealed that the Ahafo, Bono East and Bono regions which were formerly together as the Brong Ahafo Region, emerged as a strong base for lower primary education.
After the test in Mathematics and English Language, P4 pupils in the Ahafo Region posted the highest mean scores of 67% in English and 58% in Mathematics, while those in the Bono Region posted 65% in English and 55% in Mathematics, with those in the Bono East Region scoring 58% in English and 50% in Mathematics.
The Volta Region posted the least mean scores of 34% in English and 27% in Mathematics.
Soldier slaps policeman provoking violent clash in Accra Central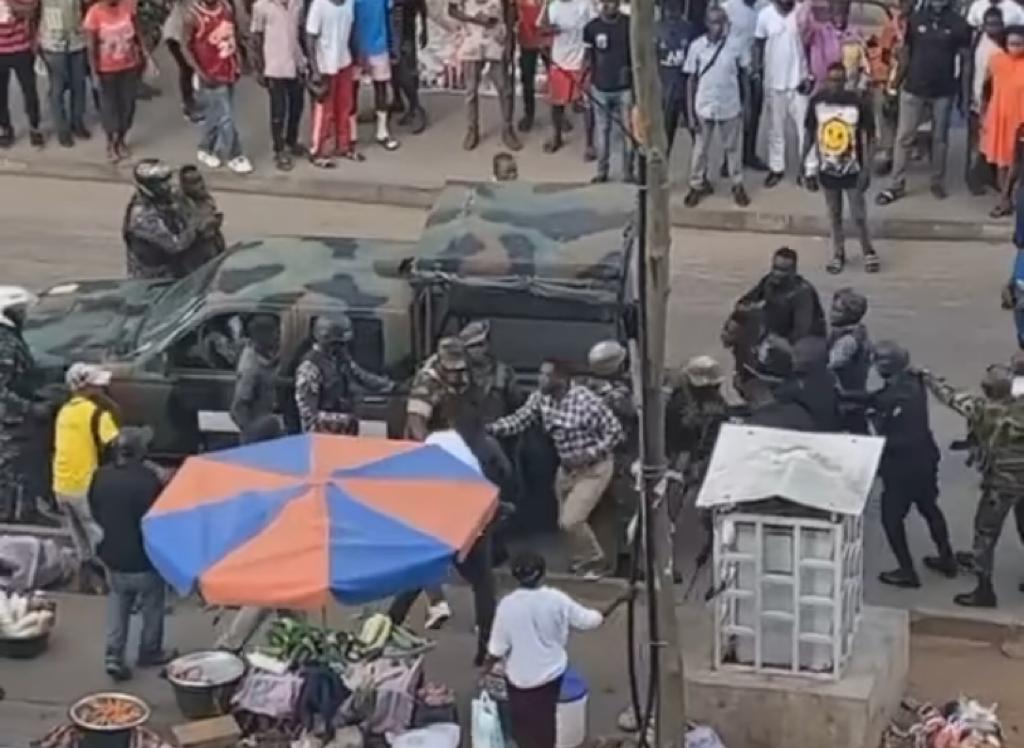 A violent scuffle ensued between Police and Military personnel near the Accra Regional Police Command yesterday creating fear and panic among the public.
An eye witness told The Finder that the scuffle was provoked by members of a military patrol team escorting a bullion van who slapped a police personnel not in uniform for not giving them way.
The eye witness who spoke on condition of anonymity explained that upon  the bullion van reaching the Ghana Cocoa Board (COCOBOD) area, the soldiers in the patrol vehicle screamed at a motor rider  to give them way.
The eye witness said the motor rider responded that he is a police officer and this response infuriated the military personnel.
The eye witness told this paper that one soldier alighted from their vehicle and slapped the policeman who was not in uniform.
The police officer quickly raise alarm and his colleagues at the Accra Regional Command premises rushed to his rescue.
According to the eye witness, the police personnel then detained the military personnel who slapped the police man.
The soldiers escorting the convoy attempted to resist the arrest of their colleague resulting in violent scuffle.
As at the time of going to press, details were still emerging but The Finder could not get the names of the police personnel slapped and the military personnel involved in the assault.
The Police and Military could not be reached immediately for their response.
The Finder learnt that the soldier was granted bail yesterday evening.
The conflict between the military and police is not uncommon in Ghana and in most cases, it the soldiers who attack the police.
In 2010 for instance, tensions flared between soldiers and police officers in Kumasi, when separate assaults carried out by soldiers within two days left 12 police personnel injured and police property destroyed.
The attacks began after a police officer attempted to arrest a soldier riding an unlicensed motorcycle.
In 2019, police personnel and some soldiers clashed at the Suame Roundabout in Kumasi.
This was after some police officers allegedly manhandled a plain-clothed military officer and handcuffed him.
The plain-clothed military officer was using an unregistered motorbike.
The military officer also called his other colleagues, who then attacked the police officers.
The soldier threatened to return with reinforcements and attack the police officer and made good on the threat later that day.
Over the next two days, more than a dozen police officers across the city were assaulted by soldiers.
In 2018, some soldiers and police officers in the Upper East region flexed muscles Sunday in a row over a military uniform.
In the same year, a group of soldiers angry over the arrest of their colleague stormed Tamale in the Northern Region and viciously pummeled police officers on duty at various points and banks.
Personnel of the Counter Terrorism Unit of the Ghana Police Service and personnel of the Military on the Operation Motherland at Juapong and on the Adomi bridge also clashed in 2021.
There has been a long-standing split tension between police and soldiers which some security experts partly blames on the outdated nature of the security legislation governing their operations.
Due to some of these disagreements between police and military personnel in the past, there have been calls for reform to establish clear oversight mechanisms and delineate security roles for the police and armed forces in Ghana.
Among the resolutions arrived at were the setting up of Police and Military memberships in all regions that host military bases, 'for the purposes of overseeing the peaceful co-existence of both services,
The personnel are the custodians of arms meant to protect and defend ordinary people   and not to attack each other.
It appears there is a deep seated animosity between personnel of the two institutions.
It is untenable for them to turn the area into a battleground to settle personal scores.
Kamala Harris: US to engage Ghana's creditors for debt reduction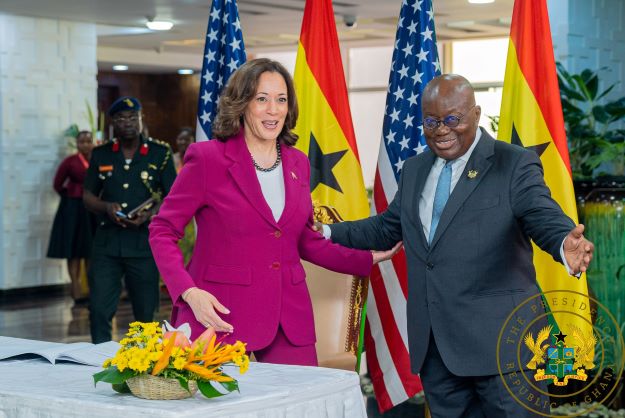 Vice-President of the United States of America Kamala Harris pledged the commitment of her country to engage the Paris Club of behalf of Ghana which is seeking debt forgiveness as part of the International Monetary Fund's (IMF) balance of payment support.
According to her, the US will help Ghana with all the support it needs to ensure that it scales through its current economic crisis.
US fully support Ghana's engagement with IMF
She indicated that the US is fully in support of Ghana's engagement with the IMF and will push for debt reduction by the country's bilateral creditors.
Biden administration to push for meaningful debt reduction
She insisted that the Biden administration "will continue to push for all bilateral creditors to provide meaningful debt reduction for countries that needed including Ghana."
"We must work together as an international community to ease the debt burden that is facing far too many countries," she added.
Joint Press Conference
The US Vice-President announced this at a joint Press Conference with President Nana Addo Dankwa Akufo-Addo, at Jubilee House, Accra, after closed door discussions.
3-day state visit
Harris, who arrived in Ghana on Sunday for a three-day state visit, is on a week-long trip on the African continent that would take her to Tanzania and Zambia.
US pledges support for economic recovery
She expressed the commitment of US to supporting Ghana to revamp its post-COVID-19 and Russia-Ukraine conflict impacted economy.
"We welcome Ghana's commitment to reform its economy for sustainable and inclusive growth. "We support Ghana's engagement with the IMF, and we will continue to push all bilateral creditors to provide meaningful debt reduction for countries that need it.
"It is critical to do so to build long-term economic growth and prosperity and to increase US investments. Our partnership is already strong, and I believe that today we have strengthened it," she stated.Harris believes this will enable Ghana successfully negotiate the bailout it is seeking from the IMF.
Factors that adversely affected Ghana's macroeconomy
The COVID-19 pandemic, rising global food prices, rising crude oil and energy prices; and the Russia-Ukraine war adversely affected Ghana's macroeconomy, with spillovers to the financial sector.
Combination of adverse external shocks
The combination of adverse external shocks had exposed Ghana to a surge in inflation, a large exchange rate depreciation and stress on the financing of the budget, which taken together have put public debt on an unsustainable path.
$54bn total public debt stock
Ghana's total public debt stock stands at $54 billion, out of which $28 billion is owed to foreign creditors.
Ghana owes China $1.9bn
Out of Ghana's $8.5 billion bilateral loans, about $1.9 billion is owed to China.
$3bn staff-level agreement reached in December 2022
In December 2022, the government reached a staff-level agreement with the fund and is now left with board-level approval before it can access the $3 billion support.
America's investment in wellbeing and prosperity of people
Harris assured that the US stands by its commitment to building on existing relations with Ghana, and working together to advance America's investment in the wellbeing, health and prosperity of the people," she stated.
US resident advisor to assist Finance Ministry 
According to her, the Department of Treasury's Office of Technical Assistance (OTA) will deploy a full-time resident advisor to assist the Ministry of Finance to develop and execute medium-to-long-term reforms needed to improve debt sustainability and support a competitive, dynamic government debt market.
Building on debt restructuring efforts
The project, according to the USA will complement and build on Ghana's debt restructuring efforts.
To further support Ghana's debt management, USAID is funding fellowships for a team of ten specialists to work within the Ministry of Finance, providing surge support for a two-year period.
The Fellows are all young, qualified Ghanaians and recent university graduates.
Strengthening public financial management
This project is part of OTA's ongoing engagement to strengthen public financial management and financial sector oversight across sub-Saharan Africa.
For 2023, OTA will execute 25 projects in 15 African countries.
This includes eight new projects in Cameroon, Ghana, Kenya, Madagascar, Namibia, Tanzania, The Gambia, and Zambia in revenue policy and administration; budget and financial accountability; government debt issuance and infrastructure financing; banking and financial services; and economic crimes.
$100m to fight violent extremism and instability
The US Vice-President also announced the US government plans to commit $100 million support package for Ghana, Benin, Guinea, Cote d'Ivoire and Togo, as part of efforts to promote stability in the sub-Region.
At least $86 million in funding over three years will specifically be dedicated to the implementation of the new 10-year plan.
The package forms part of President Joe Biden's strategy to cushion the beneficiary countries financially to address violent extremism and instability.
The package, the U.S., Vice President explained, complemented an earlier strategic plan announced by President Joe Biden, for coastal West Africa, to prevent conflict and promote stability.
Harris praises President Nana Akufo-Addo
Harris praised President Nana Akufo-Addo for his leadership in response to recent democratic backsliding in West Africa and standing up for democratic principles around the world.
"Under your leadership, Ghana has been a beacon of democracy and a contributor to global peace and security,"
"Your leadership in particular and personal engagement have strengthened the ties between the diaspora and the continent. President Joe Biden and I are grateful to have you as a partner," she said.
Strengthening partnerships across the African continent
The US Vie-President said the United States was strengthening partnerships across the African continent and "we are guided not by what we can do for Africa, but by what we can do with Africa and African partners on this continent."
African voices critical to global peace and security
With African nations playing significant roles in global issues such as food security, climate crisis and resilient supply chains, she stressed that African voices, including that of Ghana, "are critical to global peace and security, including the defence of the United Nations charter."
President Akufo-Addo says meeting was successful
President Akufo-Addo described his meeting with the US Vice-President as "successful," as both sides reaffirmed the commitment to collaborate further and provide mutual support at both bilateral and multilateral levels.
He said Harris pledged America's support for Ghana's transformative agenda, adding, "it is this transformation that would give us the best opportunity to derive maximum benefit from our abundant natural resources and enable us to create a firmer foundation for a meaningful long-term economic and commercial relations with the United States of America."
The President said Ghana will continue to collaborate with the US at all levels towards the peaceful resolution of conflicts and in the search for global peace and security to promote sustainable development and growth
"My meeting with the US Vice-President this afternoon has further boosted the steadfast cooperation between the two countries," he affirmed.
He pointed out that although he was concerned about terror groups, he had no formal confirmation that al-Qaida was present in Ghana.
On a question on the operations of the Russian mercenary force, Wagner, in the region, President Akufo-Addo said he worried that the group could expand its footprint in West Africa.
"It raises the very real possibility that once again our continent is going to become the playground for a great power conflict," Akufo-Addo said.
The President also rejected concerns about China's influence in the region, insisting that Ghana's relations with were separate from one another, and said the ties with America "is a relationship that has been close over several decades."
Ghana determined to add value to its abundant natural resources
President Akufo-Addo said the country was determined to add value to its abundant natural resources in order to lift the economy from dependence on foreign aid to a self-reliant one.
Harris inspects a guard of honour
On her arrival at the Jubilee House, Harris inspected a guard of honour mounted by the Ghana Airforce, and took the national salute, whilst a 21-gun salute boomed in the background.
President Akufo-Addo met her at the foyer of the Presidency, where the two exchanged pleasantries and retired to the ceremonial room for a tete-a-tete.
Both parties reaffirmed the strengthening of the relations and long-standing ties between the peoples of Ghana and the United States and affirmed their resolves to bolster those bonds of friendship and cooperation.
The two leaders, with their delegations, held bilateral talks, where discussions centred on a range of global and regional issues, including democracy, good governance, and human rights; regional security; long-term economic growth and macroeconomic stability.
Harris and her husband, Douglas Emhoff, were hosted at a State Banquet at the Jubilee House by President Akufo-Addo in the evening.
 Ofori-Atta says creditors agree to form Committee on Ghana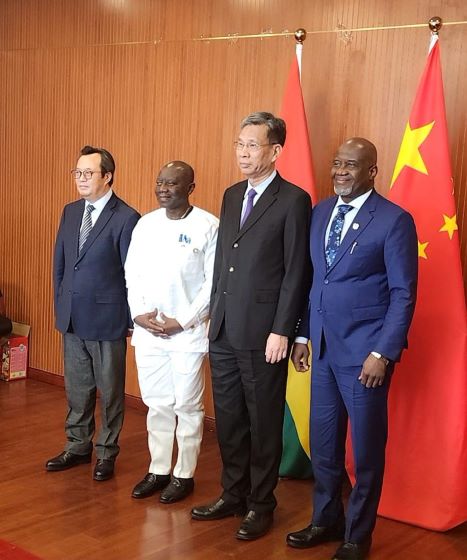 Finance Minister Ken Ofori-Atta, has disclosed that Ghana has made significant progress in its discussions for debt treatment with the Paris Club and other bilateral creditors.
Official Creditor Committee
According to him, the Paris Club, together with other creditors including China, India, Saudi Arabia, and Turkey have agreed to form an Official Creditor Committee (OCC) on Ghana.
 IMF Executive Board approval possible in May 
He revealed that the Committee plans to deliver financing assurances to the International monetary Fund (IMF) as soon as possible to clear the path for an IMF Executive Board approval of Ghana's programme by early May.
Positive engagements with China and Paris Club
Disclosing the outcome of engagements with China and Paris Club last week, Mr Ofori-Atta   said discussions with the Chinese government on the country's debt restructuring programme have been positive.
China to Co-chair the Official Creditor Committee
Mr Ofori-Atta, who led a high level government delegation made up of technical officials from the Ministry of Finance, the Ministry of Foreign Affairs and the Bank of Ghana. to China last week, also requested for China to Co-chair the Official Creditor Committee.
$54bn total public debt stock
Ghana's total public debt stock stands at $54 billion, out of which $28 billion is owed to foreign creditors.
Ghana owes China $1.9bn
Out of Ghana's $8.5 billion bilateral loans, about $1.9 billion is owed to China.
$3bn staff-level agreement reached in December 2022
In December 2022, the government reached a staff-level agreement with the fund and is now left with board-level approval before it can access the $3 billion support.
Ghana seeking extension of maturities, debt servicing, lower interest rates
Information indicates that Ghana is seeking among other reliefs, an extension of the moratorium on debt servicing; an extension of maturities; and lower interest rates.
China expresses confidence in management of Ghana's economy
The Finance Minister of China, Mr. Liu Kun, on his part said that his country has confidence in the management of the Ghanaian economy, and that his country felt a responsibility to be of help as Ghana seeks debt servicing relief.
At a meeting in Beijing, Mr. Kun said the Chinese authorities "have confidence in Ghana's economic management and its long term economic viability."
Expeditious treatment of Ghana's request
Mr. Kun said he wanted to ensure that Ghana's external debt treatment request was considered expeditiously and was thus accompanied to the meeting with Mr. Ofori-Atta by a high level delegation including Mr. Wu Fuli, Chairman of China Exim-Bank.
Committed to resolving challenges
Minister Kun said: "We know that these are short-term challenges which we, as responsible creditors, remain committed to resolving."
Long standing and prosperous relationship
"The long standing and prosperous relationship between Ghana and China imposes on us a responsibility to help," the Chinese Finance minister added.
Exogenous forces impacting Ghana's economy 
He said that just like other African countries, Ghana was facing economic difficulties from a once in a lifetime pandemic, geopolitical tensions and interest rates hikes in advanced countries with a contagion effect on developing countries.
The Chinese officials committed to help Ghana resolve the current short-term liquidity challenges and continue to support Ghana's medium and long-term development aspirations.
China to push for more concessional and grant funding for Ghana
They said China believed in promoting debt sustainability and sustainable development, and would advocate for more concessional and grant funding for Ghana, especially at this time.
Multilateral Banks should do more for Ghana
"Ghana needs more concessional and grant fund from creditors," said Mr. Zhang Wencai, Vice-President of China Exim bank, adding that "the Multilateral Banks should therefore do more for Ghana."
Revenue bills in parliament 
This week, all eyes are on Ghana's parliament which will consider three key revenue measures whose approval is expected to rake in GH₵4.4 billion in domestic revenues.
It is one of the major actions on the part of Ghana, critical to trigger IMF Executive Board approval of a $3 billion facility for the country to ease its current economic difficulties.