African leaders tasked to stem $88bn illicit financial outflows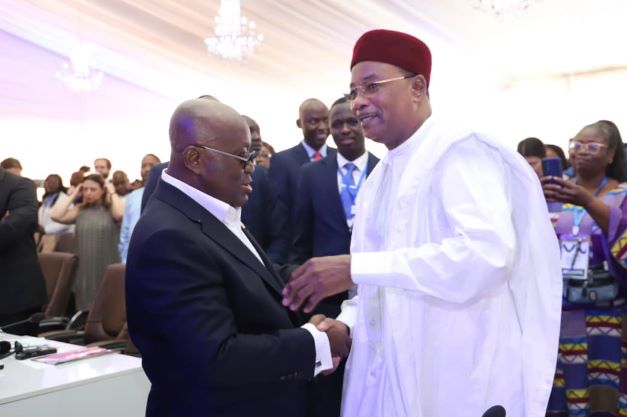 President Nana Addo Dankwa Akufo-Addo has tasked African leaders to pay serious attention to and arrest illicit financial outflows from the continent, which are estimated to be about some $88 billion annually
Fully realized AfCFTA to yield $35bn each year
The $88 billion annual tax-motivated illicit financial flow is more double the $35 billion a fully realized African Continental Free Trade Area (AfCFTA) agreement is expected to yield each year.
Depriving Africa of significant resources
This, he said deprives Africa of significant resources that could be used to support continent's development agenda.
Call for unambiguous tax policies
"We must urgently and collectively institute comprehensive and unambiguous tax policies to combat tax-motivated illicit financial flows, strengthen legal and law enforcement systems and bring together national agencies to stem such flows.
Systemic impoverishment of Africa
"We need concrete measures to stop the systemic impoverishment of our continent and the theft of its resources," he said.
Africa Prosperity Dialogue series
He made the call in an address to close the three-day maiden Africa Prosperity Dialogue series held at in the Eastern region.
Dubbed the Kwahu Summit, the first of the annual dialogues, brought together Africa's political and business leaders to discuss intra-Africa trade, with a focus on the Africa Continental Free Trade Area (AfCFTA).
The series, an initiative of the Africa Prosperity Network (APN), was on the theme: "AfCFTA: From Ambition to Action, Delivering Prosperity through Continental Trade".
The summit deliberated towards building a strong and effective single market of Africa's 1.3 billion people to help create more opportunities for its citizens and build a more prosperous Africa.
Economic security and prosperity
President Akufo-Addo appealed to countries on the African continent to work with a sense of urgency to guarantee economic security and prosperity for the citizens.
Boosting intra-African trade
Consequently, he called on African political and business leaders, as well as other strategic stakeholders to harness the opportunity presented by AfCFTA to boost intra-African trade.
Quick wins and concentrated focus
President Akufo-Addo said the collective desire to transform the African continent necessitated "quick wins as well as concentrated focus" on the steps towards the prosperity of Africa.
"We in Africa must with a sense of urgency work together to guarantee the economic security and secure the prosperity of our peoples.
"To accomplish this shared objective, African political and business leaders, as well as other strategic stakeholders should use the opportunities presented by the AfCFTA agreement to boost intra-African trade in order to enhance the productive capacity and strengthen its resilience to external shocks," he said.
Elimination of tariffs on 97% of goods
President Akufo-Addo noted that   AfCFTA presents a significant opportunity for businesses to set up and expand in Africa with the elimination of tariffs on 97% of goods traded within the African continent.
"While we recognize the enormous challenges we may face, it is the smart actions that we take, the investments we make in our people, and the speed and effectiveness in implementing the common African market that will guarantee that the 1.3 billion people who call this continent home can enjoy a prosperous and fulfilling life," he stressed.
Investment in productive capacity and physical infrastructure
He acknowledged that a great deal has to be done to realise the full benefits of intra-African trade calling for investment in productive capacity and physical infrastructure.
Improving business and investment climate
He stated that the continent ought to improve its business and investment climate and look to value addition and promotion of economics of scale.
Scaling up domestic resources mobilisation
President Akufo-Addo advocated scaling up of efforts to mobilise domestic resources to support Africa's development agenda, including the productive sectors.
Investing in and harnessing technology and innovation
He emphasized on the need for Africa to invest in and harness technology and innovation to transform economic structures and educational systems.
He said it is imperative for Africa to build technology and trade policy convergence and to adopt new approaches to sustain technological and market competitiveness.
"We must now with great zeal and fortitude back this great ambition with our collective action to harness fully the benefits of a liberalized single market for goods and services, this must be our solemn and moral obligation to our continent, to our children and future generations.
"We cannot afford to fail, as African nations, we must join hands with each other and work diligently to pursue this noble cause," he said.
Jannah Villas fuses African feel into real estate projects  
Real Estate business continues to grow in leaps and bounds with the increasing demand for places of residence by members of the high-class in society.
The industry goes a long way to boost different levers of the economy from importation of building materials through to local production of others and the use of local human resource in the building process.
For a company like Jannah Villas, a new real estate and property management outfit, there is the increasing need to continue to build alliances and consolidate the gains that the industry has chalked over the years despite existing economic challenges.
Jannah Villas, a real estate company, recently unveiled a 60-bedroom apartment hotel at Adentan in Accra.
Speaking at the launch of the hotel apartments at a ceremony at Adentan in Accra on Saturday, the Board Chairman of the company, Osman Barrie, said the facility is expected to provide a serene home-like apartment hotel environment different from the usual hotel facilities available in the hospitality industry in Ghana.
He said the hotel apartments would in addition afford guests a unique ambiance for a short or extended stay from home with their families as well.
"There are bed and breakfast studio apartments suitable for groups, families and friends that need privacy while on vacation or short stay, with access to a swimming pool, play area and outdoor kitchen," he added.
Jannah Villas, located a few kilometres from  the West Africa Senior High School at Adentan, has a fully furnished two bedroom apartments, restaurant, fitness centre, swimming pool, conference hall and event space.
Hawa Suleiman, a senior official had this to say: "Jannah means heaven in Arabic and that is the experience that we look to giving our clients and patrons.
"Additionally, we have a unique proposition in the form of pro-African fittings and furnishing where we prioritize for instance bamboo and African wood to replace some steel fittings. Ours, is to create that African and cosmopolitan feel, call it an Afro-politan experience for clients."
Shelter and its importance
Shelter is an important part of life, an importance emphasized by the role of accommodation on the Abraham Maslow Theory of Needs.
Shelter is a safety need according to Maslow's theory and recent moves by government with the rent policy, National Rental Assistance Scheme, shows that government is keen on seeing to quality accommodation and safety of citizens.
She quits insurance sales manager job to become poultry farmer
The story of Hannah Aidoo, who holds master's degree in economics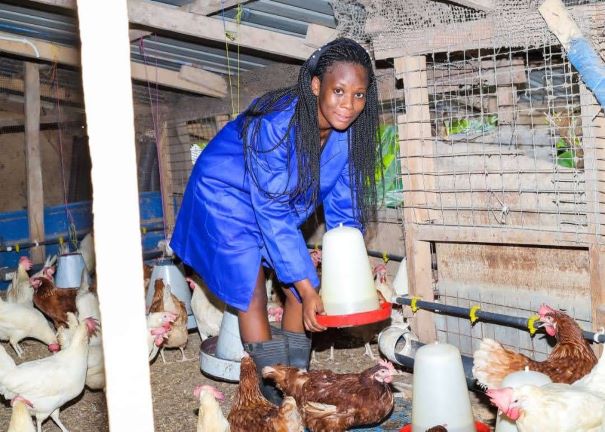 Growing up in a farming home, Hannah Aidoo defies all odds to venture into agriculture business to support her education and life.
The young ambitious lady took up this career eight years ago and has since employed other women and young people on her poultry farm.
As the founder and Chief Executive Officer (CEO) of H A farms based in Mankessim in the Central Region, she produces a range of nutritious and reasonably priced food items, including eggs, poultry, snails, catfish, vegetables, and food crops.
According to her, she works to produce these proteins to help her neighborhood and the nation as a whole while also keeping the health of the nation in mind.
In the last five years, Hannah has employed five persons, comprising three females and two males.
How the journey started
With a Bachelor's degree in Agribusiness Management and a Master's in Economics from the Kwame Nkrumah University of Science and Technology (KNUST), she decided to start a poultry farm in 2017.
She revealed that she had previously established a fresh yoghurt business in 2015 but was unable to maintain it owing to a lack of funding and rolling power outages popularly called dumsor.
"As a result of that, I chose to accept an offer as a salesperson in 2015 with an insurance firm to make some commission," she explained.
Hannah worked extremely hard and rose to the position of sales manager.
Through these periods of her life, she disclosed that she saved part of her commission each month to start her business in the future.
It was at this point that Hannah decided to launch her poultry business.
She mentioned that at that time, fresh chicken and eggs were in high demand in her neighborhood.
In light of that, she stated, "I decided to start planning, preparing for, and building my poultry house."
By the beginning of 2018, she constructed a 300-housing capacity facility and ordered her first batch of 350 layers which arrived in August 2018.
Despite farming being challenging and time-consuming, she was able to increase capacity to 600 layers.
For the sake of health-conscious Ghanaians, she added, "We are currently building a 2,000 housing capacity to help us to produce more healthy and economical eggs and meats."
Hannah confirms that life as a poultry farmer is exciting aside few challenges in the system.
Challenges as a farmer
The CEO of H.A. Farms told this newspaper that money has been her biggest issue since she started because poultry requires a lot of labour and resources.
According to her, attempts to obtain loans from certain financial institutions had been unsuccessful due to their exorbitant interest rates and her inability to provide the necessary collateral security required.
Hannah noted that despite all the biosecurity precautions she has taken, some investors still view the poultry industry as a high-risk sector to invest in.
She added that her expansion plans have been constrained by the ongoing increase in the cost inputs, particularly feed, day-old chicks, and medications, as well as the fact that her purchasing power and funds have been declining daily.
"It looks like the poultry sector is gradually collapsing due to the persistent increase in the feed and other inputs cost.
"Most poultry businesses have shut down because they are unable to cope with the high cost of production," she explained.
The youthful CEO lamented the fact that Ghanaian poultry farmers still find it difficult to compete with importers of frozen chicken since their cost of production is substantially lower than what is produced in Ghana.
Also, she said frozen birds are considerably cheaper compared to what is produced locally.
She stated that as a result, local broiler producers are finding it difficult to sell their fresh chicken due to the high cost of production.
"We learned from our research that there is a high demand for eggs and chicken due to their high nutritional value, so with the majority of our poultry farms closing, the existing gap will widen even more, leading to more imports of eggs and chicken, which will cause high inflation and put a strain on our economy," she stressed.
Hannah appealed to the government and other stakeholders to assist in saving the poultry sector because if it is allowed to fail, many jobs will be lost.
Greatest achievement
Hannah touted her company's receipt of a $10,000 grant from Standard Chartered Bank Women in Equipment programme, administered by the bank and the Ghana Climate and Innovation Center, as one of her accomplishments.
The money according to her was used to enhance the technology used on the farm.
She stated that her greatest accomplishment was that her business was able to give the people in her community access to extremely nutritious protein items such as eggs and chicken while creating direct and indirect employment for some of the women and young people in her community.
She added that she also gives manure generated from the droppings of chicken to farmers who grow crops.
Issues with gender bias
"When I tell people I own the business and that I started it from scratch, they often advise I get married so that my husband can help me run the business as if a woman isn't capable of managing a successful agribusiness" she sighed.
The young CEO mentioned that others also assume her poultry farm belongs to her father or husband.
She said that she has not come across any obstacles or restrictions that prevent women from working in the agriculture business adding that the capital and labour requirements of some agribusinesses is the only thing that might deter women from working in agriculture.
"I believe that women are capable of anything given enough financing, access to technology, and the correct motivation" she emphasised.
Final words
She urged young people to create businesses in the agricultural industry since it is exciting and lucrative, noting that she had many possibilities and exposure there that she wouldn't have had if she hadn't been a farmer.
"Given that there is already a market for the food we will produce, I think making a smart and deliberate investment in agriculture is one of the finest moves someone can make," she stressed.
La Bianca, Rockland Meat partner to supply local poultry products
La Bianca Company Limited, importers of frozen chicken products has entered into a partnership with Rockland Meat Company Limited to market and, distribute local poultry products.
At a ceremony to herald the new partnership, Chief Executive Officer of La Bianca, Madam Eunice Buah Asomah Hinneh, told the story of how La Bianca had learnt a painful story of failure, when their initial venture into the poultry rearing business collapsed due to a lack of cheap, available feed.
This experience forced the importer to think differently about its approach into the live poultry business, which led her to the realisation that "we cannot compete with the imported chicken without feed."
Madam Hinneh revealed that after that humbling experience, her outfit decided to acquire land on which to grow maize, as a way of producing their own feed to sustain the business.
This farm currently produces about 300 bags of corn, annually, which will be used to support Rockland under this new agreement.
She therefore urged other local poultry producers to emulate their initiative and go into grain production.
She called for government support in the production of local feeds, which she believes will help stem the tide of foreign chicken imports, failing which, "the local poultry industry will be in trouble."
Founder and Chief Executive Officer of Rockland Meat Company Limited, Edith Akosah Wheatland, explained that the agreement will have benefits, not just for Rock Land, but its outgrower partners, who produce 'Akoko Tasty' brand of chicken.
She stated that the biggest challenge they have faced has been marketing and funding.
She appealed for a waiver of certain ingredients that they bring in to support their production to be brought back to make their work sustainable.
She also appealed for a special rate for the agricultural sector, and also help the production of maize and soybeans to reduce the overall cost of production.
Deputy Minister of Agriculture in Charge of Crops, Alhaji Mohammed Hardi Tufeiru, lauded the two companies for this partnership, calling it "a major breakthrough which will be beneficial to the entire industry."
He disclosed that government, under the Savannah Improvement Programme, government plans to partner with farmers to improve crop production by removing the impediments to land accessibility.
Under this initiative, the government will take up the cost of buying land for maize and soybean production, with the understanding that farmers will pay for these lands in kind, considering the current economic climate.
He advised young graduates to go into agriculture, particularly cereal production, rather than waiting for non-existent white collar jobs.
National Chairman of the Poultry Farmers Association of Ghana, Victor Oppong Agyei, lauded La Bianca for pushing the production of local broilers.
He described the agreement between the two entities as "an opportunity to invest more in the industry. This should give a new wind to investment in the poultry industry."
According to him, COVID-19 sent a signal that all countries should be food sufficient, noting that this is important for sustainable growth and development.