The Deputy Minister for Lands and Natural Resources, responsible for Lands and Forestry, Mr Benito Owusu-Bio, has announced that 504 housing units for the Ghana Police Service will be ready in the second week of February 2023.
He made the announcement during a working visit to inspect the ongoing housing project for Personnel of the Ghana Police Service, the Ghana Meteorological Service, Civil Aviation and the Driver and Vehicle Licensing Authority (DVLA).
The buildings are located at Kwabenya( Atomic).
Owusu-Bio explained that the project which is being developed by Unique Development Company is a land swap agreement between the Lands and Natural Resources Ministry, Lands Commission, Ministry of Interior, Ghana Police Service, Ghana Atomic Energy Commission and the private developer.
According to him, the agreement was reached when the government realised that the Police Service was in urgent need of accommodation which also fell in line with government's plan to build modern Barracks for the security services, as their numbers kept increasing by the day.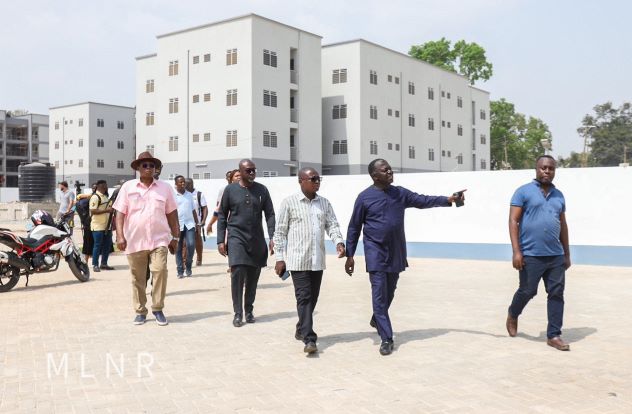 He indicated that the construction begun in 2020 but due to the COVID-19 pandemic, the progress was interrupted and almost halted but with 92% completion currently, they are hopeful to see the complete work by February 2023.
The Deputy Minister explained that the project also includes a 10 Unit, 2-bedroom accommodation for the engineering and mechanic department of the Service with offices, canteens, and a police post to ensure their safety.
Owusu-Bio told the media that the police station within the new community will not only serve the Police Service and their families but also serve those in the neighbouring areas as well.
He further clarified that the project has also relocated the residents of the Ghana Airport Company and the Meteorological Service at Jubilee enclave to pave way for the construction of the Jubliee City Project.
The Deputy Minister responsible for Lands as part of his working visit also took the media on a tour of the old Police Service accommodation facilities at the Airport, 37 DVLA enclave to give them an appreciation of the difference in outlook and the better facilities government is offering the Police Service.
He expressed his joy on the progress of work done so far saying "work is far advanced and we are hopeful that the contractors will meet the deadline".
The first phase of the project which includes 312 housing units, also has a fully furnished clinic, school block for JHS and Primary, police mobile maintenance unit, police station, fuel depot and a garage. The Second phase will see the construction of 192 housing units, taking the total number to 504 housing units.
Also with the Deputy Minister on this working visit  was the Advisor to the Minister on Mines, the Technical Director for Lands at the Ministry, Mr. Maxwell Adu-Nsarfoa and other officials from the Ministry and the Lands Commission.
Latest posts by Newscenta
(see all)