50% of women in mining who are sexually harassed victimised
For reporting their male superiors who harass them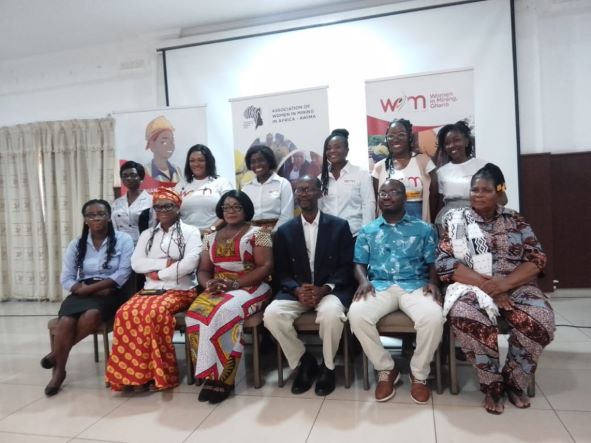 Research conducted by Women in Mining Ghana (WIM), an advocacy group for women in the extractive industry, has revealed that almost 50% of women in the industry say they have been denied promotions and capacity building opportunities because they reported their male superiors for sexually harassing them as well as discriminating against them at the workplace.
According to the study, some of these women did not get access to trainings, promotions and opportunities at work while some lost their jobs as a form of retaliation for reporting their male superiors who harass and discriminate against them.
While the study showed that mining companies have policies against gender discrimination, these policies are poorly enforced.
Also, companies are reported to have channels for reporting issues of sexual harassment however, victims refuse to report these cases due to retaliation, victimization, fear and lack of trust.
Project Consultant for Women in Mining Ghana, Dr. Kenneth Bansah during the presentation of the Gender Mapping Study noted that discrimination and harassment is a bigger problem in Ghana and African unlike in other jurisdictions.
"The only difference is that in some jurisdiction, when you report issues of discrimination and harassment, some of them are handed to law enforcement agencies to deal with them. Over here, it appears that retaliation is a big thing. Even if you report, you get retaliated and nothing happens and you suffer the consequences. And so, you are in double jeopardy and the crime is for working in the mining industry," Dr. Bansah said.
The mining sector plays a critical role in the socio-economic development of Ghana contributing GH₵4.172 billion in domestic tax revenue to the country in 2020.
Despite the huge contributions of the sector to the economy, women participation remains low. They are excluded from governance and decision making, face disproportionate harms from mineral extraction and are less likely to access economic benefit and opportunities.
The study titled 'Diversity and Inclusion: A Gender Mapping Project in Ghana's Mining Sector' was conducted in 100 mining communities in Eastern and Western Regions of Ghana.
Out of a total of 632 participants who were recruited to be part of the study, 544 of them were women from the ages of 18 years to 80 years.
Out of the 544 women who participated in this study, 45.4% reported that they have faced discrimination and harassment.
Some findings from the research shows that from the industry perspective, there was lack of effect leadership and mentorship as women representation in leadership was low, some experienced women were not supportive and some men refused to mentor women.
Participants from the mining communities' perspective also revealed that there is low educational levels, poor community leadership and unequal distribution of mining benefits between men and women.
The study therefore recommended that mentorship and capacity building should be organised for women. A gender sensitive environment should be created, Key institutions like the Ghana Chamber of Mines should take leading roles in gender inclusion, and financial institutions should create access to funds for women in the mining sector.
Delivering his remarks on the study, Advisor to the Minister of Lands and Natural Resources, Benjamin Aryee urged Women in Mining Ghana to sensitise government to address the imbalances in the mining sector.
He added that "It is not just a matter of empowering them but ensuring that it is an equity situation. What women are better able to do, we should encourage them to do. When they cannot do it, men have to do it."
President of Women in Mining Ghana, Dr. Georgette Barnes Sakyi-Addo said WIM embarked on this study to provide scientific data for policy and advocacy for women in the mining value chain.
"Inputs of the study will be used to develop a gender framework, organize trainings and education for communities, members of WIM and the female work force. We wanted to come from an informed position because a lot of information and data out there is anecdotal so with this we have some scientific information we can use to design programmes for advocacy," she said.
The research ulitised a mixed method approach to gather data and draw conclusions and recommendations for the mining industry in the country. The Eastern and Western Regions were selected for the study because they have a large scale mining, support service companies, community women and Artisanal Scale Mining(ASM) who were needed to participate in the study.
Nana tasks CID to probe Prof Frimpong-Boateng's galamsey claims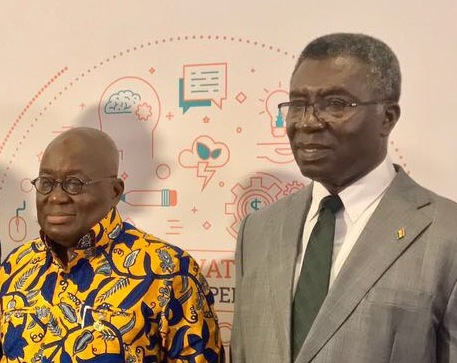 President Nana Addo Dankwa Akufo-Addo has directed the Police to investigate allegations by Professor Kwabena Frimpong-Boateng regarding the involvement of some government officials in illegal mining activities.
Checks by The Finder with the Police confirmed that the directive was issued last week.
Special Investigation Unit
Following the directive, the checks revealed that the Special Investigation Unit (SIU) of the Criminal Investigation Department (CID) at Headquarters has commenced investigation into the matter.
The former Minister of Environment, Science, Technology and Innovation also alleged that even some staff at Jubilee House and New Patriotic Party (NPP) bigwigs are involved in illegal mining.
Ousted by persons in galamsey?
Prof. Frimpong-Boateng in a recent interview with the state broadcaster GBC alleged that he was ousted from his position to pave the way for NPP bigwigs and government officials to continue their galamsey activities.
"Let me tell you that I did not take one excavator for anything, they know the truth. Now things are coming up, we know those who are behind it and the party people who are there, people in government including Jubilee House who are doing galamsey and so on, even now.
"There was an orchestrated scheme, even within the party and government to get me out. Why is it that when I left now everyone is in the forest?"
Prof. Frimpong-Boateng's son accused of mining in forest reserves
Jojo Frimpong-Boateng, the biological son of Prof. Frimpong-Boateng was accused of having links with a company called Symphony Limited allegedly involved in mining in Ghana's forest reserves.
Audio recording
While in office in 2020, an audio recording surfaced online with the voice of Prof.   Frimpong-Boateng interacting with some persons believed to be NPP members and in the said recording, Prof.  Frimpong-Boateng was heard allegedly agreeing to granting them the green light to engage in galamsey.
Scandals of Inter-ministerial Committee on Illegal Mining
The Inter-ministerial Committee on Illegal Mining (IMCIM) headed by Prof.  Frimpong-Boateng was hit by a number of scandals including corruption allegations levelled against some of its leaders as well as claims of 500 excavators seized from illegal small scale miners missing.
"Though the excavators were seized and taken to the district assemblies, the heavy-duty machines disappeared later from the premises of the assemblies," he said.
CID arrest 6 in connection with missing excavators
The CID of the Ghana Police Service on Monday 3rd February, 2020, arrested six persons in connection with the missing excavators and other seized equipment from illegal miners in the country.
Among them is the suspended New Patriotic Party Central Regional Vice Chairman, Horace Ekow Ewusi.
The others include Frederick Ewusi, Joel Asamoah, Adam Haruna, Frank Gyan and John Arhin.
157 excavators
However, the then Lands and Natural Resources Minister, Kweku Asomah Cheremeh, said his outfit had 157 excavators in its possession.
There were 122 excavators in Adentan, 26 in Obuasi and nine in Tarkwa.
Following the scandals Nana Addo Dankwa Akufo-Addo dissolved the IMCIM in January 2021 and assigned Lands and Natural Resources Ministry the lead role in the galamsey fight.
 Anti-galamsey fight making Ankobra River clean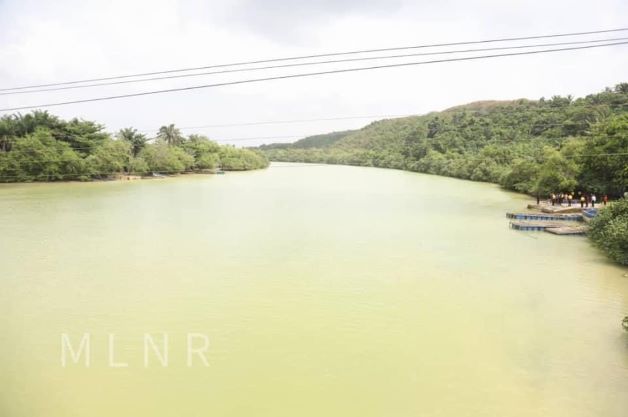 The Deputy Minister for Lands and Natural Resources responsible for Mines, George Mireku Duker has noted that the return of the Ankobra River and other water bodies to their pure status is a reflection of the strides made by government's fight against illegal mining.
According to him, the progress made in the turbidity level of the waterbodies is indicative of the fact that the anti-galamsey fight is yielding results.
Speaking after the tour of the Ankobra River which is fast regaining its authentic and clean status on Thursday, 16th February 2023 , Mireku Duker commended the various stakeholders for their respective roles in the fight against illegal mining.
While commending the various agencies and Ghanaians for their efforts,  Mireku Duker maintained that government will not take its foot  off pedal and will press on with the measures that have resulted in the gains made so far.
He noted that the training of river wardens to compliment the Operation Halt II taskforce is another laudable initiative by government that has contributed significantly to the liberation of water bodies from galamsey operations.
He urged all individuals especially Chiefs, MMDCEs and the general public to join forces with government in its bid to protect the water bodies.
He reiterated government's aversion on the ban of small-scale mining and expressed that government through the Community Mining Scheme and other innovations will transform the small-scale mining sector.
"We should take full responsibility of protecting Ghana's river bodies.  We have roles to play including MMDCEs and we must all commit to protecting our water bodies.
"There are suggestions for government to close down small-scale mining activities but we are aware of the number of job opportunities created in the small-scale mining sector.
The DCE for Ellembelle District, Kwasi Bonzo said the people of Ellembelle will not sit down aloof and watch others destroy their livelihoods.
Dorcas Amoah, DCE for Nzema East commended the government for the Community Mining scheme in the area, revealing that many lives have been impacted positively by the innovative mining scheme
Atewa Forest: Forestry Commission destroys galamsey equipment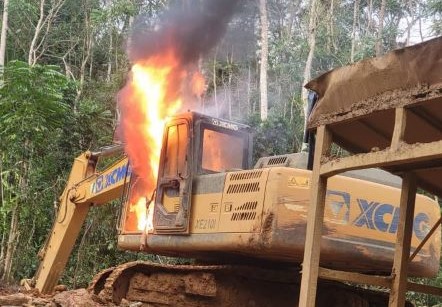 The Forestry Commission has demobilized equipment being used for illegal mining in the Atewa Forest in the Eastern Region.
The demobilization was carried out at a mining site outside the Forest Reserve which has affected 0.6 hectares of the reserve.
A statement issued by the Commission said no one was found at the site where the illegal mining was taking place.
The Commission said it is working with Operation Halt II to ensure that no illegal mining activity takes place in the Forest Reserve.
It assured that the necessary steps are taken to reclaim portions of the Forest Reserve affected by the illegal activity.
The Commission said it has reported the incident to the Kyebi District Police Station and will work with them and other agencies to smoke out the perpetrators and deal with them.
It assured the public of continuous commitment to work with all stakeholders to protect all Forest Reserves in the country
It will be recalled that eleven persons who were involved in illegal mining in the Atewa Forest were given prison sentences of between five and 15 years.
Koforidua Circuit Court B sentenced them after they were found guilty of engaging in the dig and wash model of illegal mining in the Atewa Forest Reserve, contrary to the
country's mining laws which bar mining in forest reserves.
The 11 convicts are among 55 persons who were arrested by officials of the Forestry Commission in 16 different operations in the Atewa Forest between January and April 2022.
A document detailing the progress report on the cases revealed that the 44 people were on remand at the time.
Three of the convicts – Alhassan Lariba, Foster Boakye and Kwaku Ampofo, who were arrested at the Pameng portion of the Atewa Forest, were sentenced to 3,000 penalty units, amounting to GH¢36,000 in addition to five years' imprisonment.
In another case, George Asare and Godwin Ahadzi, who were arrested at the Asiakwa portion of the Atewa Forest, were fined 10,000 penalty units, amounting to GH¢120,000 or they would spend 15 years in prison.
Again, Isaac Kofi and Yaw Boadi, who were arrested in the Obourho portion of the forest, were fined 10,000 penalty units of GH¢120,000 in addition to 15 years' imprisonment with hard labour.
Three other illegal miners – Bismark Dompreh, Kwasi Samuel and Kwadwo Baah – were handed 15 years sentence and a fine of GH¢1,000 each.
The illegal miners were arrested at various locations in the Atewa Forest, including Sagyimase, Pameng, Asiakwa, Ahwenease, Juaso, Obourho, Potroase and Apenaman,