For the first time in Ghana's history, government is developing a comprehensive policy to make Ghana an attractive destination for investment in the downstream aluminum industry.
Areas of focus
The final policy will cover a wide range of areas including incentives, taxation, cost of electricity, tackling cheap imports, address dumping and how to manage the value chain and the relationships among others.
Policy to address cheap imports
The policy will also address cheap imports to make local companies thrive to meet local demand and export to other countries.
Utilisation of locally produced aluminum
The aim is to attract more companies to set up in Ghana and utilise locally produced aluminum to produce all kinds of products.
Why aluminum industry is essential to the economy
The aluminum industry is essential to the economies of modern countries and it provides a range of highly differentiated products, from the intermediate semis required for many high-tech industries to parts and components for final applications.
Stakeholders
Under the auspices of the Ghana Integrated Aluminium Development Corporation (GIADEC) stakeholders in the aluminum industries attending a 2-day workshop on downstream aluminum industry are reviewing extensive research, data collection and technical analysis of best practices across the world carried out by GIADEC and Overseas Development Institute (ODI), formerly known as the Overseas Development Institute with funding from the United Kingdom Government's Foreign, Commonwealth and Development Office (FCDO)
Policy options and implementation plan
Participants are deliberating on policy options and implementation plan for the downstream aluminum industry.
Electricity constitutes over 32% of production cost
The Cost of electricity constitutes over 32% of production cost in the aluminum industry.
Therefore, how to get electricity at the right price to support the industry will feature prominently in the policy.
Industrial transformation
Downstream is the heart that will drive industrial transformation and involves utilization of primary aluminum produced in Ghana.
Policy environment
GIADEC is preparing the policy environment for the incentive framework that will support the downstream industry.
Locally produced aluminum to be utilised locally
The policy will make sure that majority of locally produced aluminum is utilised locally to grow the economy for the benefit of Ghanaians.
Steady progress of integrated aluminum industry
Opening the workshop, Minister for Lands and Natural Resources, Samuel Abu Jinapor, is optimistic that government's quest to build an integrated aluminum industry in the country is on course, and progressing steadily.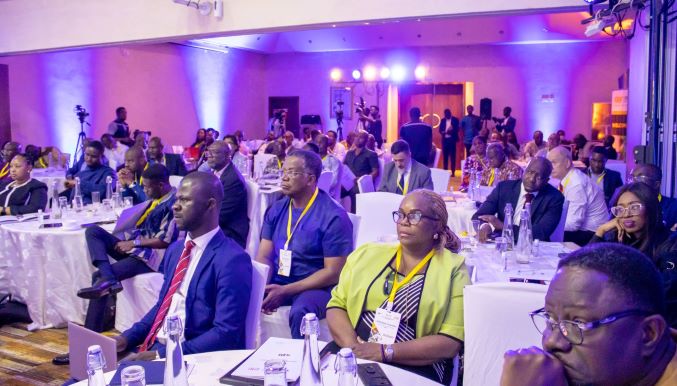 Adding value to Ghana's mineral resources
He emphasised the need to add value to Ghana's mineral resources to ensure optimal benefit from these resources.
Big price differentials of raw ore and primary aluminum
He pointed out that while the raw bauxite ore sells for around $60 per metric tonne while primary aluminum produced from bauxite sells for over $2,000 per metric tonne.
900m metric tonnes of bauxite 
The Minister puts Ghana's estimated bauxite resource base at over 900 million metric tonnes.
2m jobs, one trillion US Dollars
According to him, the total deposit is capable of creating some two million sustainable jobs, and generating over one trillion US Dollars in revenue if fully integrated.
Robust, functioning and vibrant downstream aluminum industry
Jinapor urged participants at the workshop to bring their expertise to bear, and fashion out with policy options and plans that will help build a robust, functioning and vibrant downstream aluminum industry that contributes, meaningfully to the economy.
Tertiary products are the most important
Board Chairman of GIADEC, Dr. Anthony Oteng-Gyasi pointed out that converting bauxite into tertiary products constitutes the most important step in the entire value chain.
Mass production necessary
According to him, mass production is required to achieve the expected benefits and urged participants to develop a policy that will deliver results.
 Modernization and retrofitting VALCO
GIADEC's Master plan will lead to the modernization and retrofitting VALCO smelter to produce about 300,000 metric tornnes of primary aluminum each year.
Importance of aluminum to global economy
Chief Executive Officer (CEO) of GIADEC, Michael Ansah pointed out that the global economy is headed towards how aluminum is utilized and what is being done will propel Ghana to lead across Africa.
How aluminum will benefit vehicle assembling plants
He said the nine vehicle assembling plants operating in the country will need aluminum to produce and use Ghana as a launch pad to export to the rest of Africa and the world at large.
3-3.5 cent per kilowatt hour of electricity targeted
He disclosed that the industry is looking for electricity price of three to three and a half cents per kilowatt hour to make Ghana's industry competitive globally.
Cheap power to benefit downstream industry
When this is achieved, he said the benefit of cheap power will be passed on to local downstream industry.
Environmentally friendly aluminum
Ansah also revealed that Ghana is planning to use green energy to produce environmentally friendly aluminum which attracts higher price.
VALCO producing 50,000 metric tonnes of aluminum
The GIADEC CEO said out of the about 50,000 metric tonnes of aluminum VALCO currently produces each year, only 7,000 metric tonnes is utilized by downstream while the rest is exported.
40,000 metric tonnes of aluminum products imported annually
This he noted is happening at a time the country imports about 40,000 metric tonnes of aluminum products each year.
Role of AfCFTA
Dr. Max Mendez-Parra of ODI explained that the policy should focus on targeted policies for specific downstream industries and African Continental Free Trade Area (AfCFTA) is a critical framework to achieve that.
ODI roadmap to 2035
Derrick Abudu of ODI said his outfit has developed a roadmap from now to 2035.
According to him, the roadmap seeks to achieve energy deal with competitive cost structure by 2025 which will in turn attract enormous investments from 2030 to 2035.
He noted that low cost of electricity will result in cheap aluminum supplied to the downstream.
He said cheap inputs will automatically attract more investment since returns will be much higher.
Abudu stated that 20, 000 jobs can be generated while raking in revenue from exports of final products.
Latest posts by Newscenta
(see all)