Qatar scraps COVID entry test requirement for World Cup fans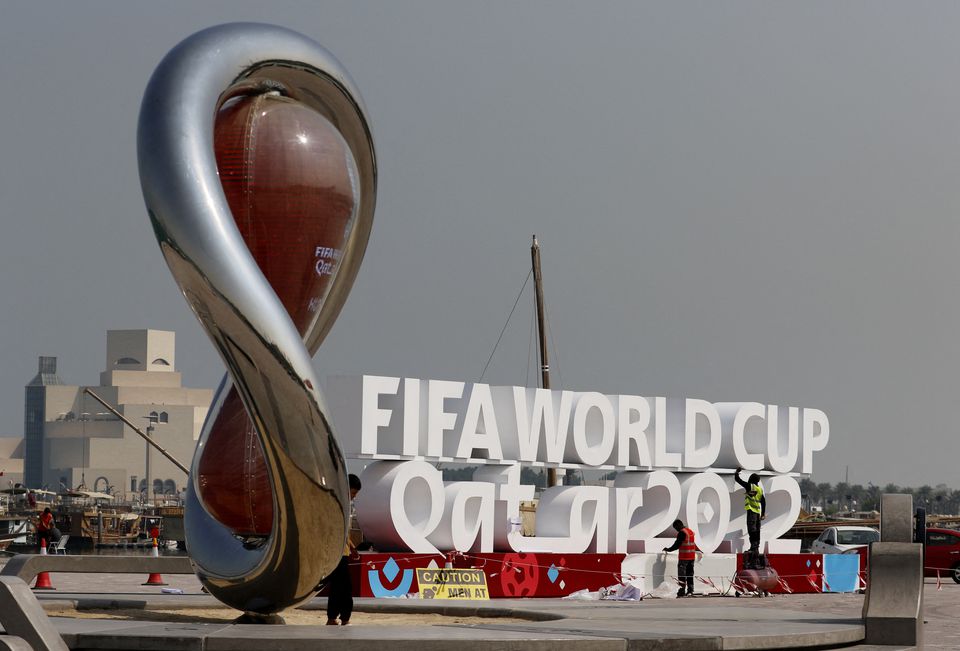 World Cup host Qatar has scrapped a requirement for visitors to obtain a negative COVID-19 test before departing for the Gulf Arab state, its health ministry said in a statement on Wednesday.
Previously, Qatar had told fans attending the World Cup they must show proof of a negative COVID-19 test regardless of their vaccination status, before departing by air or at the border crossing.
Qatar is expecting an unprecedented 1.2 million visitors during the Nov. 20-Dec. 18 tournament.
Qatar residents are no longer to take a COVID-19 test within 24 hours of returning to the country from abroad.
The health ministry also dropped a requirement that adults show their COVID-19 status on a government-run contact tracing smartphone application called Ehteraz before entering stadiums or other establishments like shops and restaurants.
Visitors and residents must still show the application before entering a healthcare facility, the statement said.
Qatar is easing restrictions because "the number of COVID-19 cases (is) continuing to drop around the world and in Qatar, and the ongoing roll-out of Qatar's National COVID-19 Vaccination Program," the statement said.
Last week, Qatar eased its mask rules and now only requires masks for people visiting healthcare facilities.
Qatar, which has a population of nearly 3 million, has recorded more than 440,000 confirmed cases of COVID-19 and 692 deaths from the virus, according to data from the Ministry of Public Health.
sportstar.thehindu.com
Bawumia: Govt will support family to give Atsu a befitting  burial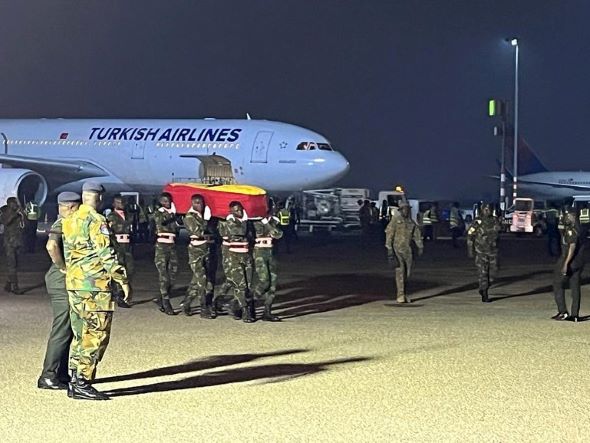 Vice-President Dr Mahamudu Bawumia has pledged government support to the Twasam family to give Christian Atsu a befitting burial.
Receiving the mortal remains of Atsu at Kotoka International Airport in Accra, he said "The State will be fully involved with the family in providing Atsu a befitting burial.
The casket of Atsu landed at Kotoka International Airport Sunday Night from Turkey where he lost his life as a result of the earthquake that has killed over 45,000 people and counting.
On behalf of Government, Dr Bawumia extended condolences to the Twasam family, Ghanaians and the footballing fraternity for the "deep loss".
"We hoped against hope and prayed but when we found him, he was no more. He played for the Black Stars and was much loved. We will sorely miss him. It is a painful loss," he said.
Also at the airport to receive the casket were Minister of Information;- Mr Kojo Oppong Nkrumah, Mr Evans Bobie Opoku-Deputy Minister of Youth and Sports, Mr Prosper Harrison Addo-General Secretary of the Ghana Football Association (GFA).
Many sympathisers also trooped to the airport to witness the arrival of the casket.
The Twasam family expressed gratitude to Government and Ghanaians for the support since the incident happened.
Shortly after the ceremony, the body was carried in a hearse and transported to the 37 Military Hospital morgue for preservation.
Tributes have been pouring in for the player and his family,  following the confirmation of the recovery of his body in the wee-hours on Saturday.
The 31-year-old before suffering the tragic incident featured in their game against Kasimpasa SK on February 5, 2023, and scored the only goal in the game to give his side the win.
The sad event hit many Ghanaians due to the contribution and sacrifices Christian Atsu had made for his country both on and off the pitch.
He made 64 appearances for the Black Stars, netting ten goals and nine assists.
Atsu, known for his generosity towards the less privileged in society, left behind a wife and two children.
Ghanaians thank God as Christian Atsu is rescued alive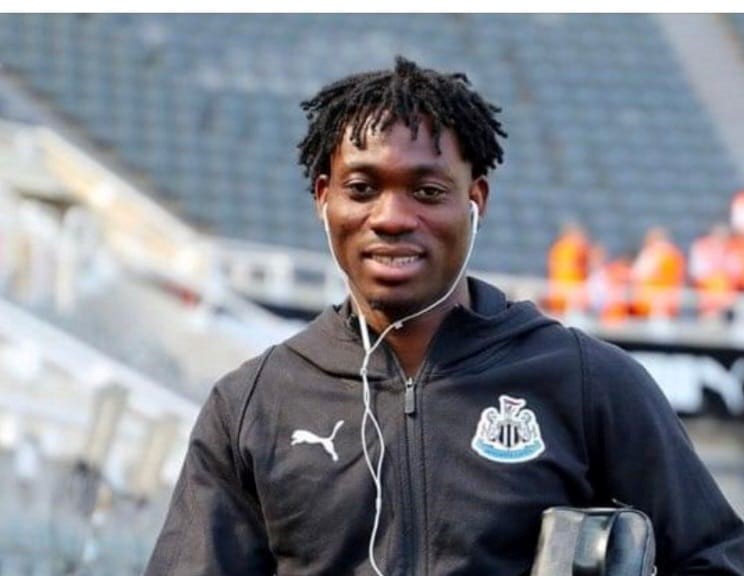 Mustafa Özat, Vice-President of Hatayspor, the football club Christian Atsu plays for has confirmed that the Ghanaian international has been rescued alive.
He said: "Christian Atsu was removed with injuries. Unfortunately, our sporting director Taner Savut is still under the rubble."
The Ghanaian international is said to be having some breathing difficulties with some injuries and has been taken to the hospital to receive treatment.
He has been confirmed safe by the Turkish rescue team after a major earthquake hit the country Monday morning.
Confirmation of his rescue has sent Ghanaians from all walks of life happy expressing gratitude to Almighty God
The hashtag " #GloryToGod" has been trending on social media with various social media users, who are relieved with the news of Atsu's rescue after hours of conflicting reports.
A statement from Ghana Football Association (GFA) said: "We've received some positive news that Christian Atsu has been successfully rescued from the rubble of the collapsed building and he is receiving treatment. Let's continue to pray for Christian".
The Hatayspor forward was also affected by the disaster as he was trapped in the rubble for about 24 hours in his residence in Kahramanmaras, Turkey.
The earthquake, measuring a magnitude of 7.8 on the Richter scale, is said to be the worst to hit the country in a century. The last incident was in 1939.
The former Chelsea and Newcastle player joined the Turkish side in September last year and was on the scoresheet on Sunday when his side beat Kasimpasa 1-0.
Atsu made 65 appearances for the Black Stars of Ghana, scoring nine goals.
Christian Atsu's team debunks claims he has been rescued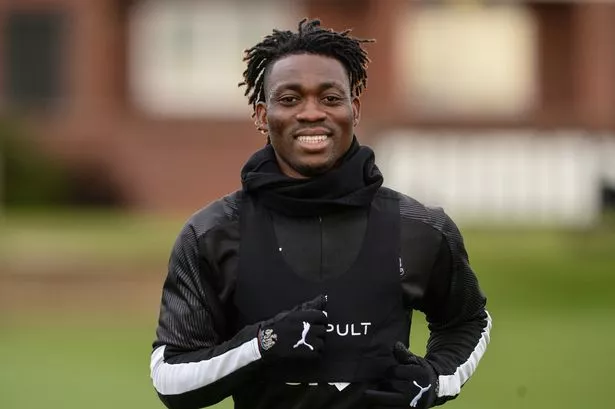 Hatayspor FC Vice-President Mustapha Ozat says efforts are still being made to contact Ghanaian international Christian Atsu and Sporting Director Taner Savut.
Atsu and Savut are among the thousands of people who remain under the rubble following an earthquake that struck many cities in Turkey in the early hours of Monday.
According to the Vice-President, most members of the Hatayspor playing body have been accounted for, except for Atsu and Savut, who remain under the rubble.
"Christain Atsu and Taner Savut are still under the rubble. We are trying to reach them," Mr Ozat said.
Many Ghanaians from all walks of life are praying for the rescue of Christain Atsu, who scored his first goal for his team in their 1-0 win over Kasimpasa on Sunday.
"On behalf of the Government and people of Ghana, I extend heartfelt condolences to the Governments and peoples of Turkey and Syria on the devastation and the tragic loss of lives occasioned by Monday's earthquake. "May their souls rest in perfect peace,"  President Nana Akufo-Addo tweeted.
"Our hearts and prayers go out to the survivors, and we pray that our fellow Ghanaian, Christian Atsu, is found safe and sound," he wrote. Former President John Dramani Mahama wrote on Twitter: "Let's continue to pray for our brother, Christian Atsu, and his club director. The city of Hayat is in the region affected by the earthquake. Let's continue to pray that God spares their lives."
In other related developments, the Ghana Paralympic Committee says all athletes living in the Turkey region are safe and sound.
A statement released by the GPC said it had made contact with athletes in affected areas, with no casualties yet.
Rescuers in Turkey and war-ravaged Syria searched through the frigid night into Tuesday, hoping to pull more survivors from the rubble after a 7.8 magnitude earthquake killed more than 4,000 people and toppled thousands of buildings across a wide region.
Authorities feared the death toll from Monday's pre-dawn earthquake and aftershocks would keep climbing as rescuers looked for survivors among tangles of metal and concrete spread across the region beset by Syria's 12-year civil war and refugee crisis.
Survivors cried out for help from within mountains of debris as first responders contended with rain and snow. Seismic activity continued to rattle the region, including another jolt nearly as powerful as the initial quake. Workers carefully pulled away slabs of concrete and reached for bodies as desperate families waited for news of loved ones.