Vice-President of the United States of America Kamala Harris pledged the commitment of her country to engage the Paris Club of behalf of Ghana which is seeking debt forgiveness as part of the International Monetary Fund's (IMF) balance of payment support.
According to her, the US will help Ghana with all the support it needs to ensure that it scales through its current economic crisis.
US fully support Ghana's engagement with IMF
She indicated that the US is fully in support of Ghana's engagement with the IMF and will push for debt reduction by the country's bilateral creditors.
Biden administration to push for meaningful debt reduction
She insisted that the Biden administration "will continue to push for all bilateral creditors to provide meaningful debt reduction for countries that needed including Ghana."
"We must work together as an international community to ease the debt burden that is facing far too many countries," she added.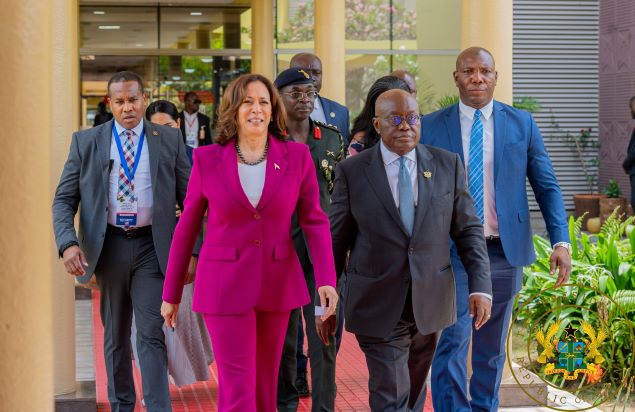 Joint Press Conference
The US Vice-President announced this at a joint Press Conference with President Nana Addo Dankwa Akufo-Addo, at Jubilee House, Accra, after closed door discussions.
3-day state visit
Harris, who arrived in Ghana on Sunday for a three-day state visit, is on a week-long trip on the African continent that would take her to Tanzania and Zambia.
US pledges support for economic recovery
She expressed the commitment of US to supporting Ghana to revamp its post-COVID-19 and Russia-Ukraine conflict impacted economy.
"We welcome Ghana's commitment to reform its economy for sustainable and inclusive growth. "We support Ghana's engagement with the IMF, and we will continue to push all bilateral creditors to provide meaningful debt reduction for countries that need it.
"It is critical to do so to build long-term economic growth and prosperity and to increase US investments. Our partnership is already strong, and I believe that today we have strengthened it," she stated.Harris believes this will enable Ghana successfully negotiate the bailout it is seeking from the IMF.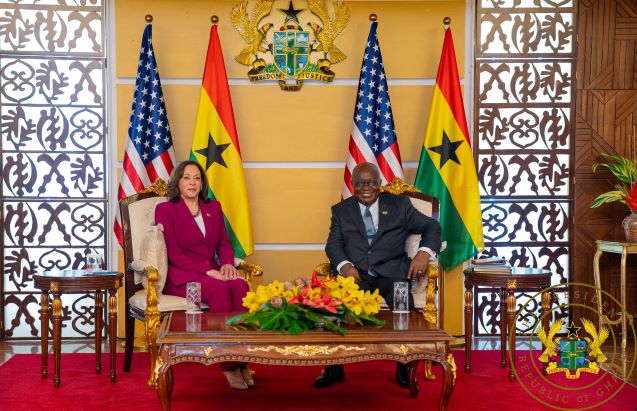 Factors that adversely affected Ghana's macroeconomy
The COVID-19 pandemic, rising global food prices, rising crude oil and energy prices; and the Russia-Ukraine war adversely affected Ghana's macroeconomy, with spillovers to the financial sector.
Combination of adverse external shocks
The combination of adverse external shocks had exposed Ghana to a surge in inflation, a large exchange rate depreciation and stress on the financing of the budget, which taken together have put public debt on an unsustainable path.
$54bn total public debt stock
Ghana's total public debt stock stands at $54 billion, out of which $28 billion is owed to foreign creditors.
Ghana owes China $1.9bn
Out of Ghana's $8.5 billion bilateral loans, about $1.9 billion is owed to China.
$3bn staff-level agreement reached in December 2022
In December 2022, the government reached a staff-level agreement with the fund and is now left with board-level approval before it can access the $3 billion support.
America's investment in wellbeing and prosperity of people
Harris assured that the US stands by its commitment to building on existing relations with Ghana, and working together to advance America's investment in the wellbeing, health and prosperity of the people," she stated.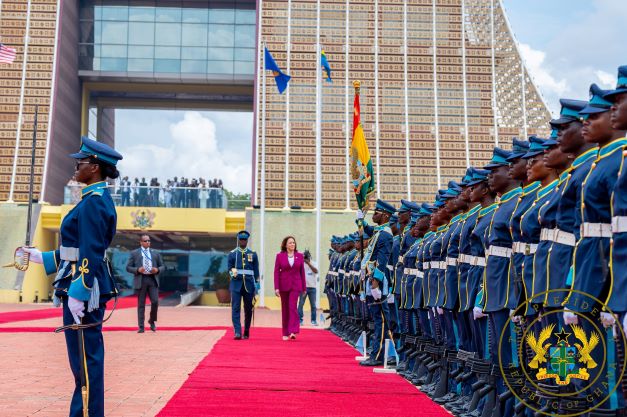 US resident advisor to assist Finance Ministry 
According to her, the Department of Treasury's Office of Technical Assistance (OTA) will deploy a full-time resident advisor to assist the Ministry of Finance to develop and execute medium-to-long-term reforms needed to improve debt sustainability and support a competitive, dynamic government debt market.
Building on debt restructuring efforts
The project, according to the USA will complement and build on Ghana's debt restructuring efforts.
To further support Ghana's debt management, USAID is funding fellowships for a team of ten specialists to work within the Ministry of Finance, providing surge support for a two-year period.
The Fellows are all young, qualified Ghanaians and recent university graduates.
Strengthening public financial management
This project is part of OTA's ongoing engagement to strengthen public financial management and financial sector oversight across sub-Saharan Africa.
For 2023, OTA will execute 25 projects in 15 African countries.
This includes eight new projects in Cameroon, Ghana, Kenya, Madagascar, Namibia, Tanzania, The Gambia, and Zambia in revenue policy and administration; budget and financial accountability; government debt issuance and infrastructure financing; banking and financial services; and economic crimes.
$100m to fight violent extremism and instability
The US Vice-President also announced the US government plans to commit $100 million support package for Ghana, Benin, Guinea, Cote d'Ivoire and Togo, as part of efforts to promote stability in the sub-Region.
At least $86 million in funding over three years will specifically be dedicated to the implementation of the new 10-year plan.
The package forms part of President Joe Biden's strategy to cushion the beneficiary countries financially to address violent extremism and instability.
The package, the U.S., Vice President explained, complemented an earlier strategic plan announced by President Joe Biden, for coastal West Africa, to prevent conflict and promote stability.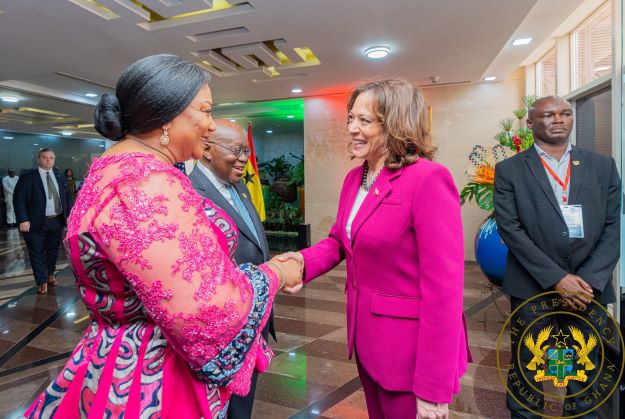 Harris praises President Nana Akufo-Addo
Harris praised President Nana Akufo-Addo for his leadership in response to recent democratic backsliding in West Africa and standing up for democratic principles around the world.
"Under your leadership, Ghana has been a beacon of democracy and a contributor to global peace and security,"
"Your leadership in particular and personal engagement have strengthened the ties between the diaspora and the continent. President Joe Biden and I are grateful to have you as a partner," she said.
Strengthening partnerships across the African continent
The US Vie-President said the United States was strengthening partnerships across the African continent and "we are guided not by what we can do for Africa, but by what we can do with Africa and African partners on this continent."
African voices critical to global peace and security
With African nations playing significant roles in global issues such as food security, climate crisis and resilient supply chains, she stressed that African voices, including that of Ghana, "are critical to global peace and security, including the defence of the United Nations charter."
President Akufo-Addo says meeting was successful
President Akufo-Addo described his meeting with the US Vice-President as "successful," as both sides reaffirmed the commitment to collaborate further and provide mutual support at both bilateral and multilateral levels.
He said Harris pledged America's support for Ghana's transformative agenda, adding, "it is this transformation that would give us the best opportunity to derive maximum benefit from our abundant natural resources and enable us to create a firmer foundation for a meaningful long-term economic and commercial relations with the United States of America."
The President said Ghana will continue to collaborate with the US at all levels towards the peaceful resolution of conflicts and in the search for global peace and security to promote sustainable development and growth
"My meeting with the US Vice-President this afternoon has further boosted the steadfast cooperation between the two countries," he affirmed.
He pointed out that although he was concerned about terror groups, he had no formal confirmation that al-Qaida was present in Ghana.
On a question on the operations of the Russian mercenary force, Wagner, in the region, President Akufo-Addo said he worried that the group could expand its footprint in West Africa.
"It raises the very real possibility that once again our continent is going to become the playground for a great power conflict," Akufo-Addo said.
The President also rejected concerns about China's influence in the region, insisting that Ghana's relations with were separate from one another, and said the ties with America "is a relationship that has been close over several decades."
Ghana determined to add value to its abundant natural resources
President Akufo-Addo said the country was determined to add value to its abundant natural resources in order to lift the economy from dependence on foreign aid to a self-reliant one.
Harris inspects a guard of honour
On her arrival at the Jubilee House, Harris inspected a guard of honour mounted by the Ghana Airforce, and took the national salute, whilst a 21-gun salute boomed in the background.
President Akufo-Addo met her at the foyer of the Presidency, where the two exchanged pleasantries and retired to the ceremonial room for a tete-a-tete.
Both parties reaffirmed the strengthening of the relations and long-standing ties between the peoples of Ghana and the United States and affirmed their resolves to bolster those bonds of friendship and cooperation.
The two leaders, with their delegations, held bilateral talks, where discussions centred on a range of global and regional issues, including democracy, good governance, and human rights; regional security; long-term economic growth and macroeconomic stability.
Harris and her husband, Douglas Emhoff, were hosted at a State Banquet at the Jubilee House by President Akufo-Addo in the evening.
Latest posts by Newscenta
(see all)