Inflation accelerated for the 19th straight month in December to end the year 2022 at 54.1%. This is up from 50.3% in November 2022.
Figures from the Ghana Statistical Service (GSS) show that this is the highest reading since April 2001.
It means inflation which started the year at 13.9% in January 2022 has increased by 40.2% in one year.
It rose to 15.7% in February and a further rise to 19.4% in March. For April the inflation figure spiked to 23.4% and went up again in May to 27.6%.
In June, the rate inflation rose again to 29.8% while July recorded 31.7%. Inflation in August spiked to 33.9% and accelerated further to 37.2% in September.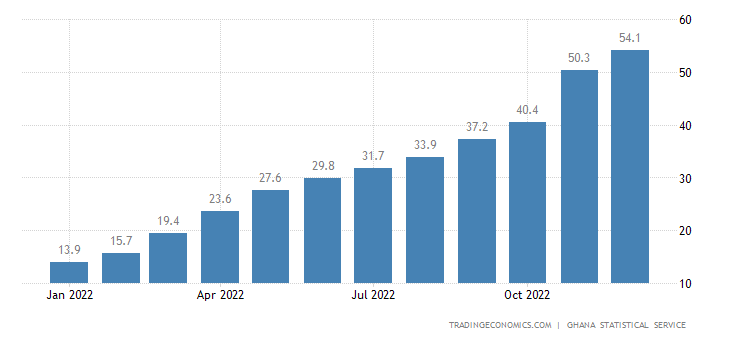 It hit 40.4% in October and skyrocketed to 50.3% in November. Inflation then ended the year at 54.1%.
Inflation surpassing the 10% ceiling of the Bank of Ghana's target range since September 2021.
Slight depreciation of the cedi from mid-December contributed to a further increase in the cost of imported goods to 61.9% in December compared to 55.1% in November.
The drivers of the inflation includes prices of transportation which rose from 63.1% in November to 71.4% December.
Another contributor, the cost of utilities also increased to 82.3% in December from the 79.1% recorded in November.
Food inflation accelerated from 47.9% in November to 59.7% in December
Latest posts by Newscenta
(see all)