Out of the 164.6 million (164,652,659.67) cubic meters (m3) of water produced by Ghana Water Company Limited (GWCL) for the first half of 2023, some 76.2 million cubic meters (76,235,600.84 m3) which translates to 46% of the total water produced have been lost to physical and commercial losses.
With an average tariff of GH₵12 per cubic meters, the losses is estimated at GH₵914.8 million (GH₵914,827,210.08).
40.4m cubic meters of physical losses
The physical losses which were the result of leaks and other issues within the company's distribution network is equivalent to 40.4 million m3 (40,404,868.45 m3).
GH₵484.8m in physical losses
The figure which accounts for GH₵484.8 million (GH₵484,858,421.4) represents 53% of the total water losses recorded in the first half of 2023.
35.8m cubic meters of Commercial losses
Commercial losses on the other hand attributed to issues such as water theft and billing inaccuracies amounted to 35.8 million m3  (35,830,732.39 m3).
GH₵429.9m in Commercial losses
The figure which accounts for 47% of the total water losses is estimated to be GH₵429.9 million (GH₵429,968,788.68) in monetary terms.
Managing Director of GWCL, Ing. Dr. Clifford Abdullah Braimah, announce this at media briefing in Accra on the company's status and accomplishments in the past few years dubbed "Accounting to Our Customers Series".
Opportunities for improvement
He said while the statistics might pose challenges, they also presented opportunities for improvement and as a diligent and dedicated utility provider; they fully understood the significance of tackling the losses and refining their water management strategies.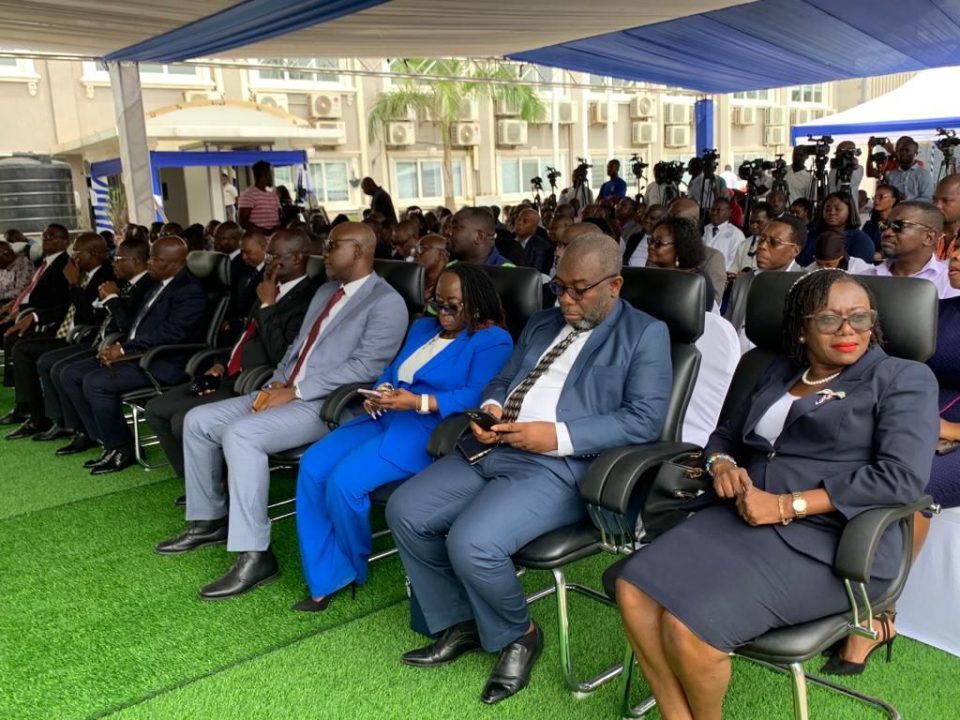 "By implementing effective measures to tackle physical and commercial losses, we aim to ensure a more efficient and sustainable water supply system for all," he stressed.
The MD noted that moving forward, the company is determined to reduce the losses, improve its distribution network, and enhance its revenue generation efforts.
Challenges
He mentioned that one of the most pressing challenges the GWCL faces is the destructive impact of alluvial mining, often referred to as galamsey.
He said that this poses a significant threat to Ghana's water sources, as it leads to pollution, siltation, and degradation of critical water bodies.
He added that the consequences of galamsey are dire, affecting the quality and safety of the water we provide to our communities.
The consequences of the activities included turbidity, sand and stone particles damaging pumps, down times as a result of frequent shutdowns for maintenance and increasing dose of chemicals, increasing the cost of production, affecting the quality and safety of the water provided to communities, he said.
To address the menace, the company said that it is in the process of implementing Climate Resilience Water Safety Plans (WSP) for all water supply systems within the company's operational areas.
Ing. Dr. Braimah mentioned that the plans will serve as a comprehensive risk assessment and management tool to cover every aspect of the water supply process in ensuring the safety of drinking water.
He explained that the WSPs have been adopted as a standard for quality drinking water in Ghana, as well as a Key Performance Indicator (KPI) for GWCL operations.
illegal water connections
He noted that illegal water connections from customers have also been a persistent challenge to the GWCL.
Ing. Dr. Braimah stated that the connections lead to substantial water losses and also jeopardize the integrity of the company's distribution network.
"They result in unauthorized access to our water supply, affecting the financial sustainability of our operation" he stressed.
He encouraged customers to report any GWCL staff involved in illegal conduct.
Such actions include a staff trying to clear a metre of charges and taking a percentage of the unpaid bill under the pretext of helping the customer to save money.
Ing. Dr. Braimah, who gave the advice on Monday at a press briefing in Accra on the company's status and accomplishments in the past few years to customers, said when caught, the customer would be considered an accomplice and prosecuted.
Such illegalities, he said, cost the company and the nation huge sums of money that would in turn affect the water systems and supply in the country.
He explained that to ensure efficient water distribution and minimise non-revenue water (NRW) which is water produced but not generating revenue due to various losses, he said GWCL had procured and installed over 400 water meters made up of magnetic and ultrasonic clamp-on meters on 90 water systems,
60,000 Smart Meters   installed
According to him, the company had also installed approximately 60,000 Smart Meters for drive-by Automatic Meter and Fixed Network Readings in the Greater Accra Metropolitan Area (GAMA) region, transforming the districts into Smart Districts.
10,200 households connected urban areas
He disclosed that this collaboration has been instrumental in expanding water distribution infrastructure by approximately 282 kilometres and connecting over 10,200 households in urban areas.
Ing. Dr. Braimah said the company was also replacing all faulty meters in all regions and undertaking a water loss reduction performance-based contracting.
He said that non-payment of water bills from customers is also another ongoing concern.
The act according to him hampers the company's revenue generation and affects GWCL's ability to maintain and expand its infrastructure and services effectively.
"To address the issue of non-payment, we have significantly upgraded our billing and collection systems" he added.
1,500km of limited mains extensions works
He said over 1,500km of limited mains extensions works executed nationwide  to improve water distribution with 26km of distribution network improvement works carried out to enhance hydraulic performance.
In 2022, GWCL generated GH¢1.2 billion (GH¢1,232.50 million) from 173.5 million cubic metres of water produced, an increase of 13% increase from the previous year.
The company's total billing for 2022 reached around GH¢1.3 billion (GH¢1,371 million) which represents a 13% increase from the previous year.
Ing Dr Braimah attributed the results to the implementation of an efficient billing system, proactive measures against billing discrepancies, and tariff adjustments.
He indicated that the company's electronic billing system has substantially increased electronic payments by reaching about GH₵123.3 million in 2022.
He revealed that as at August 2023, the company's monthly average revenues from electronic payments have reached GH₵16.9 million, from over 86,000 transactions.
He stated that projections indicate that water revenues from electronic payments will reach GH₵203 million by the end of 2023, marking a 65% surge from the 2022 figure.
Metering Ratio
On metering ratio, the MD said that the company's current metering ratio stands at an impressive 95%, ensuring accurate billing for the majority of customers.
Latest posts by Newscenta
(see all)