Vice-President Dr. Mahamudu Bawumia has told foreign investors that Ghana is regaining conditions that drive investor confidence
According to him, Ghana's economic opportunities for private sector investments are back on track as the country is navigating its way out of the global economic meltdown.
He noted that the government is relentlessly re-focusing on economic growth and working hard to regain the trajectory Ghana was on and get back to pre-COVID-19 growth numbers.
Ghana regaining conditions need for investor confidence
Addressing the 3rd Ghana Investments and Opportunities Summit in London, Dr Bawumia said government is balancing sound fiscal management with strategic public investments that unlocks growth.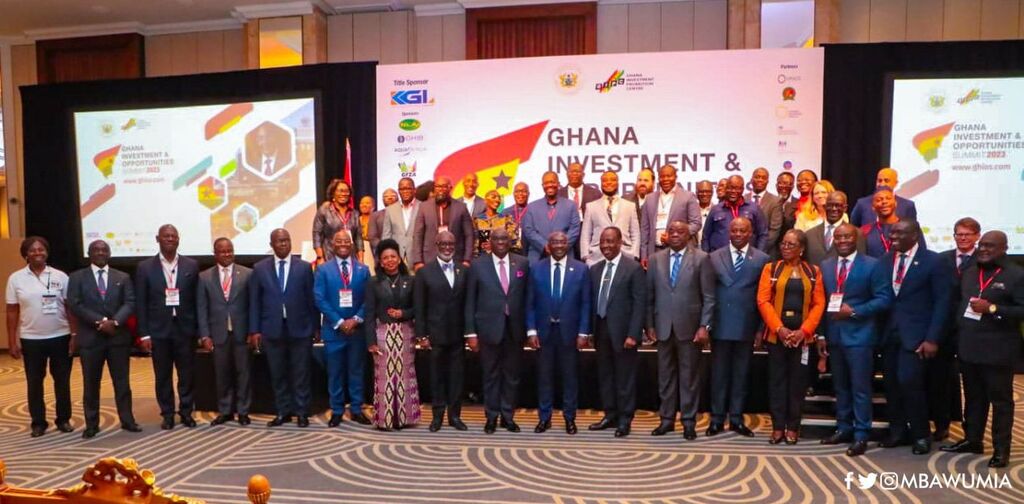 Real Gross Domestic Product
Under the three year $3 billion programme, Real Gross Domestic Product (GDP) is projected to grow at 1.5% in 2023, another 2.8% in 2024, some 4.7% in 2025, another 5% in 2026 and 5% again in 2027.
Real GDP per capita
Real GDP per capita is also projected to grow at negative 1.1% in 2023, 0.2% in 2024, 2.1% in 2025, some 2.3% in 2026 and 2.4% in 2027.
Inflation projected to return to 8% in 2025
Under the programme, inflation is projected to be 29.4% in 2023 and 15% in 2025 before reducing to the Central Bank target of 8% in 2025, 2026, and 2027.
Revenue-to-GDP ratio
For the government's revenue-to-GDP ratio, the IMF has projected an increase from 15.7% in 2022 to 16.8% in 2023, 17.3% in 2024, 17.8% in 2025 and 18.7% in 2026 and 2027 respectively.
Overall fiscal balance
Overall fiscal balance under the programme is projected to decrease from negative 11.%  in 2022 to negative 7.5% in 2023, increase to negative 8% in 2024 and then decline progressively to negative 6.7% in 2025, negative 5.7% in 2026 and negative 4.6% in 2027.
Primary balance
At the same time, the primary balance is projected to decline from negative 3.6% in 2022 to negative 3.1% in 2023 and thereafter register positive balances of 0.5% in 2024 and flatten at 1.5% in 2025, 2026 and 2027.
It will take as far as 2027 to return the overall fiscal balance to within the ceiling of 5 per cent in the Fiscal Responsibility Act.
Debt to GDP
Debt to GDP remains high as it rises from 88.1% in 2022 to 98.1% in 2023 and thereafter declines gradually to 92% in 2024, 90.2% in 2025, 88.4% in 2026 and 86.1% in 2027.
Dr Bawumia said "We are living in extraordinary times. Over the past two years, inflation has surged.
"Its rise has been large, sudden, and global. In many parts of the world, it is now at levels unseen for generations.  Meanwhile, financial systems have come under strain.
"For the first time in recent decades, we have seen high inflation and financial stress emerging in tandem.
"The world as we are all aware continues to face difficult moments caused by several factors, including climate change, disruptions in the supply chain of manufacturing goods as a result of the pandemic,  among others. "
Dr Bawumia explained that "these issues as projected by the World Bank are sinking some developed and developing countries into recession.
He noted that just when the world was recovering from the ravages of COVID-19 pandemic, which came to shake the foundation of the world's economy, causing it to a standstill through its devastating effects, resulting in the fall of Global Gross Domestic Product by over 78%, war also broke out between Russia and Ukraine.
He noted that its consequence has not only affected the two countries but also extended to other parts of the world, including Ghana.
"We have been hit by mainly three major external forces. The Covid-19 pandemic hit our capacity to access fundamental goods, and the response put a burden on public finances," he said.
The Vice-President stated that the war between Russia and Ukraine hit fertilizer and grain prices, among others, and increased the prices of commodities back home.
Dr. Bawumia noted that the US Federal Reserve's move to hike interest rate severely hit Ghana's capacity to borrow and repay debt in the international market.
Following signs that Ghana is regaining conditions needed for investor confidence, the investment summit seeks to woo foreign investors to take advantage of opportunities created in the various sectors of the Ghanaian economy in a road up to a total economic recovery.
"The private sector is the engine of growth, and we are only here to support you. Our government is acting as your facilitator.
"We will unlock bottlenecks and prioritize limited resources to strategic sectors and projects. We think this is an exciting time to be part of Ghana's economic growth," he said in his keynote address.
"We are organizing this Investment and Opportunities Summit exactly in that context. First, we want to show that Ghana is back on track and that strong opportunities exist for profitable private investments in key sectors. "
Dr Bawumia said Ghana is home to one of West Africa's most prominent and efficient ports, Tema, on the eastern serves as a feedstock to the landlocked ECOWAS countries.
He also referenced Takoradi port on the western coast, which serves the logistics, oil and gas, and allied industries.
The Vice-President told the investors that Takoradi is undergoing a significant transformation and requires significant investment to help decongest Tema and establish a commercial case for more vessels berthing there," he added.
Dr Bawumia cited the Brownfield, Greenfield, and Public Private Partnerships as tangible and bankable projects championed by the private sector in Ghana and abroad.
Latest posts by Newscenta
(see all)