The producer price of cocoa has been increased by 21% for the 2022/2023 season effective October 7, 2022.
GH₵12,800 per metric tonne
This translates into GH₵12,800 per metric tonne up from GH₵10,560.
GH₵800 per bag
This means that the price of a bag of cocoa weighing 64 kilogramme gross will now sell at GH₵800 from the GH₵660 in 2021/2022 season.
Increase represents 89.99% of FoB price
The producer price represents 89.99% of the net Free on Board (FOB) value.
Minister of Food and Agriculture (MoFA), Dr. Owusu Afriyie-Akoto announced this in Accra yesterday.
900 CFA franc per bag in Ivory Coast
Last week, Ivory Coast raised its cocoa producer price by nine per cent to 825 CFA franc to 900 CFA franc (1.33) per kilogramme.
The cedi equivalent of the 900 CFA franc per bag of cocoa weighing 64 kilogramme gross is GH₵850.
The CFA franc is the common currency of the 14 African countries belonging to the Franc Zone.
Govt's commitment to decent income for farmers
Dr. Afriyie-Akoto explained that the 21% rise in the producer price of cocoa was a testament to the government's resolve to ensure farmers earn a decent income and make cocoa farming lucrative.
Robust, resilient, and sustainable cocoa industry
He said government will continue to implement initiatives to build a robust, resilient, and sustainable cocoa industry where cocoa farmers and their communities would thrive.
He said that to ensure a decent standard of living for Ghanaian cocoa farmers after retirement, the government will from November 2022 move from the pilot phase to the implementation phase of the Cocoa Farmers pension scheme.
Dr Afriyie-Akoto said the Committee had also approved the rates and fees for all other stakeholders in the supply chain.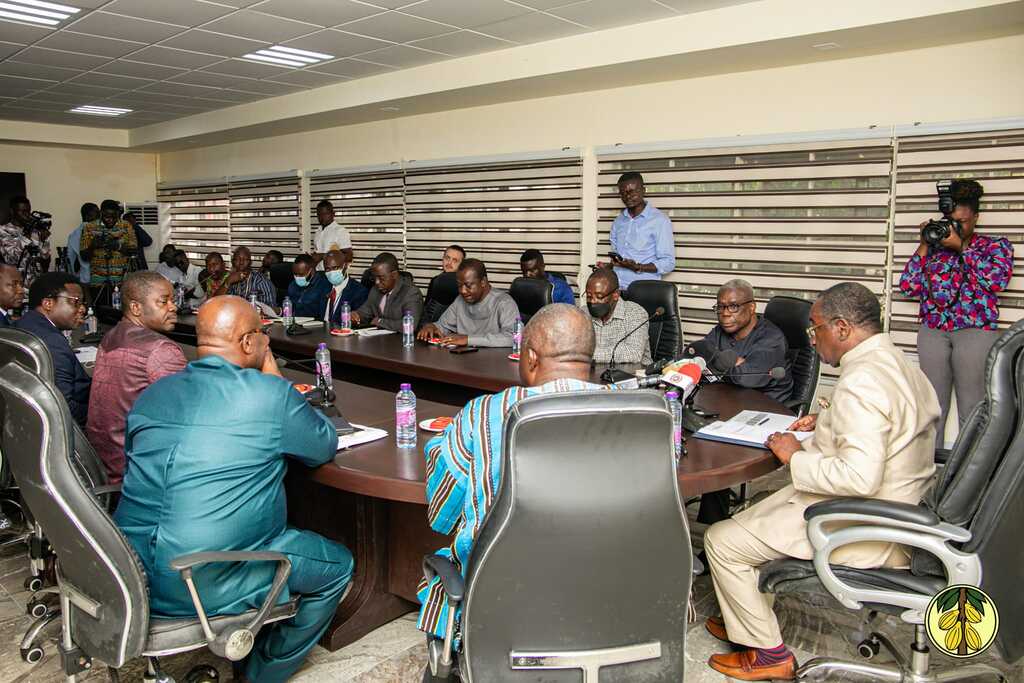 These include the Buyers margin, Hauliers' rate, warehousing, and internal marketing costs, as well as fees for disinfestation, grading and sealing and scale inspection.
The minister said the government would continue to support cocoa farmers through the pests and diseases control programme (Mass Spraying) and rehabilitation of diseased cocoa farms.
"The Government will also assist cocoa farmers by making the requisite inputs such as fertilizers available for farmers to buy to increase farm productivity," he added.
The Minister said the Government was committed to continuing to supply certified planting materials that are drought tolerant, early bearing and high yielding.
Dr Afriyie-Akoto said the European Union would soon legislate Regulations on due diligence on Deforestation and Forest Degradation and this placed enormous responsibility on the country to ensure that cocoa was sustainably produced in Ghana.
He said the government had not relented in ensuring that cocoa produced in Ghana was free from deforestation and child labour.
He said the government through Ghana Cocoa Board (COCOBOD) is developing the Cocoa Management System (CMS) to enable Ghana to meet the EU due diligence requirements.
When completed, the CMS will establish a national mandatory traceability system which will be transparent and accountable.
This will ensure that all Ghana cocoa beans are traceable from the port of shipment to the plot of land that produced the beans.
He said this was a key requirement under the European Union Due Diligence requirements.
The Minister said the first component of the CMS, which involved the establishment of a reliable farmer database (farm mapping and enumeration), is expected to be completed by the end of October 2022.
He assured stakeholders that COCOBOD had made available funds, jute sacks and related logistics for the smooth take-off of the 2022/23 Main Crop Season.
COCOBOD secures $1.13bn to purchase Cocoa
COCOBOD) has secured $1.13 billion from a consortium of international banks to meet its financing needs to purchase cocoa and related operations for the 2022/23 cocoa crop season.
The Board signed the agreement with Standard Chartered Bank Ghana Limited on behalf of the other lenders.
Despite the challenging context for COCOBOD and Ghana this year, the new annual financing for a thirtieth successive year closed successfully with the strong support of its relationship banks and enhanced level of collateralisation and pricing, confirmed the longstanding successful track record of this PXF.
Cocoa freight rates increased: 5% for containerised, 10% for bulk shipment
The Cocoa Marketing Company (CMC), Ghana Shippers Authority (GSA) and 18 shipping lines have agreed to increase basic freight rates for the 2022/2023 cocoa season to all destinations but the United Kingdom (UK).
As a result, basic freight for containerised shipments to all destinations except UK has been increased by five percent and basic freight for mega bulk shipments to all destinations except UK has been increased by 10%.
In addition, Bunker (Fuel) Adjustment Factor (BAF) to all destinations except UK has been increased by 2 percentage points from 28 – 30%.
These were reached after a marathon meeting at this year's Cocoa Freight Negotiation Conference held at the Hilton Sorrento Palace, Sorrento, Italy on 20th September 2022.
This means the rate, calculated per tonne, for shipping the commodity to the various locations across the world currently stands at £31.50 to the United Kingdom (UK) for both bagged and bulk; to the Northern Continent €54.02 for bagged and €56.60 for bulk; to Estonia €61.74 for bagged and €64.70 for bulk; to Mediterranean Europe €60.64 for bagged and €63.53 for bulk; to the Far East $100.44/106.09 for bagged and to Brazil $116.24 for bagged and $121.78 for bulk.
The reasons that resulted in the decision predominantly were events in the global shipping market, which include increasing charter rates, container shortage and rising bunker prices.
Also, the consideration of the need to keep a competitive freight rate for Ghana's cocoa, especially in the light of competition from neighboring countries played a role.
COCOBOD receives ISO certification
The Quality Control Company (QCC), a subsidiary of the Ghana Cocoa Board (COCOBOD), received certification for global quality and standards for cocoa products from the country.
The ISO certification 17020 and 17025 was acquired through the support of the Ministry of Trade and Industry, the United Nations Industrial Development Organisation, and the Swiss government.
The new certification makes Ghana the only country in the region with such a level of accreditation.
$400 Living Income Differential
Ivory Coast and Ghana teamed up and agreed to sell cocoa with a living income premium of $400 a tonne added to the price, in a bid to reform the way global cocoa is priced.
Forward sale of 80% of cocoa beans
Ghana and Ivory Coast, which account for about 60% of global cocoa output, typically sell about 80% of the main harvest before the beginning of every season, a system which allows it to lock in prices and set the minimum pay for farmers.
Over 2m small-scale farms in both countries
Over 2 million small-scale farms in Ivory Coast and Ghana produce nearly 60% of the world's supply of cocoa.
Two-cycle cocoa season in Ghana
The country operates a two-cycle cocoa season, consisting of the main crop, which is mainly exported to Europe at a premium, and a light crop harvest, which is discounted by around 20% to local grinders.
Ghana, Ivory Coast get only $5.75bn out of $100bn chocolate market
While the two countries contributed to more than 60% of the world's cocoa output, their total earning from the sale of cocoa beans amounted to a paltry $5.75 billion whereas the chocolate market was worth some $100 billion in that same year.
Ghana, Ivory Coast produce 60% of world's cocoa
It means that the farmers whose toil and sweat produced 60% plus of the world's cocoa earned 5.75% of the global value of their activity.
Nestlé's annual sales dwarfs GDP of Ivory Coast and Ghana
According to the World Bank, Ivory Coast and Ghana have combined gross domestic product (GDP) of $69.3 billion, a figure dwarfed by Nestlé's $90 billion in annual sales or a market cap of around $250 billion.
London and New York terminal markets
London and New York terminal markets, using mechanically programmed formulas, determine the price of cocoa.
Cocoa sector contributes 4.22% to GDP
The cocoa sector contributes 4.22% of gross domestic product (GDP), 30% of export earnings.
Latest posts by Elvis Darko
(see all)